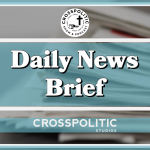 This is Garrison Hardie with your CrossPolitic Daily News Brief for Wednesday, October 25th, 2023.
Page50 ad read concepts:
Page50 is a distinctly Christian marketing company striving to help Christian-owned businesses grow and succeed in our digital age. They don't want to just make a paycheck, they want to
change the world, and that means building it alongside you.
The mission is bigger than just Sunday. Page50 wants to help Christians recapture the work week, economic and political influence, and the public square.
Page50 doesn't work with just anybody, but if you're a believer they want to work with you. Visit pagefifty.com (ya gotta spell it out) and see what they can do for you. That's pagefifty.com.
https://dailycaller.com/2023/10/24/tom-emmer-wins-gop-nomination-speaker/
Tom Emmer Wins GOP Nomination For Speaker Of The House On Secret Ballot
House Majority Whip Tom Emmer won the nomination for Speaker of the House on Tuesday after five rounds of votes.
Republicans were voting by secret ballot until they were able to get to a candidate who received a simple majority of the conference votes. After each round of votes, the member who received the lowest numbers was eliminated.
Candidates running had the option to drop out before each round of votes if they felt that they did not have enough support. 109 votes were needed to win.
Before the first round, there were seven GOP Republicans running for Speaker. Reps Tom Emmer, Mike Johnson, Byron Donald's, Kevin Hern, Austin Scott, Jack Bergman and Pete Sessions. Sessions received the lowest amount of votes during the first round of votes and dropped out.
Bergman dropped out after the second round of votes, as he received the least amount of votes.
After the third round, Scott received the least amount of votes and dropped out of the race.
After the fourth vote, Hern dropped out of the race after receiving the least amount of votes. Donalds then voluntarily dropped out of the race.
Emmer secured the majority of votes during the fifth vote.
House Judiciary Chairman Jim Jordan was voted out of the race for speaker of the House on Friday after failing to receive the necessary votes on three separate ballots. Jordan lost in a secret ballot vote 86-112.
https://justthenews.com/nation/states/center-square/nearly-1-million-residents-left-california-2022-fueled-cost-living
Nearly 1 million residents left California in 2022 fueled by cost of living
The exodus from California accelerated in 2022, with 817,000 residents leaving the state in 2022 for an annual net loss of over three hundred thousand residents to other states, according to new U.S. Census data. Should outmigration continue, California could lose more than the five, already projected, congressional seats it's expected to shed after the 2030 census.
During the COVID-19 pandemic and switch to remote work, California lost population for the first time in its existence as a state, leading to the loss of a single congressional seat in 2021 during the nation's reapportionment of census-based distribution of the nation's 435 congressional representatives. With a smaller congressional delegation, the state would have less power to shape federal spending.
While California Governor Gavin Newsom has not addressed the new numbers directly, when challenged by Fox News host Sean Hannity on California's population decline in a June 2023 interview, he said, ".3% [population loss] during COVID. My gosh."
Just before the interview, Newsom's Department of Finance estimated the state's population had declined by 138,443 during 2022, making for a .36% population loss in a single year. Also using Department of Finance Data, the Public Policy Institute of California estimated a decline of 211,000 residents in 2022. Meanwhile, the latest Census data cited above, once accounting for a sharp rebound in immigration and decrease in deaths that offset the increase in outward immigration, estimates a population decrease of 113,000 for 2022. While the reason for the differences is not clear — the finance department notes that the discrepancy between its numbers and the Census reporting is due to different time frames being measured — the general trend of data demonstrating the state's general population decline is consistent.
According to PPIC polling, 45% of Californians are considering leaving the state due to the high cost of housing. Will Swaim, founder of the California Policy Center, acknowledges that housing is a major factor but that other costs, the lack of opportunity, and even the poor state of public education are leaving many Californians, especially parents, looking to move elsewhere.
"There's no question that housing costs are huge, but that really ignores the myriad other ways that California has simply destroyed business opportunity, especially for the working class," said Swaim to The Center Square. "It is a very expensive state to live in and the poorer you are the more that housing cost number hurts. But how about gasoline? Every week people are putting almost double what our fellow Americans in other states are putting in their cars."
Those leaving the state are disproportionately younger and lower income. For many families, buying property and raising children in the state is no longer a viable option.
"We are losing younger folks, and I think we will see people continuing to migrate where housing costs are lower," Manuel Pastor, a professor of sociology and American Studies & Ethnicity at the University of Southern California, said in an interview with the Associated Press. "There are good jobs in California, but housing is incredibly expensive. It hurts young families, and it hurts immigrant families."
Swaim, who raised his children in California, noted that his now-adult children are left looking elsewhere for alternatives. Sharing his children's thoughts, he said, "We don't want our children to be educated in California's public schools, but we want them to be educated in private schools that we can't afford."
The majority of students in California public schools do not meet the state's moderate standards for math, science, and English. When combining all sources of funding, California public schools spend approximately $27,000 per student. The Education Data Initiative estimates the average K-12 private school tuition in California is $16,337.
https://townhall.com/tipsheet/spencerbrown/2023/10/23/us-border-agents-warned-to-look-out-for-hamas-fighters-n2630232
CBP Agents Receive New Warning in Light of Israel-Hamas Conflict
Authorities along the U.S.-Mexico border are being warned by the San Diego Field Office of U.S. Customs and Border Protection (CBP) to keep an eye out for "foreign fighters" connected to the terrorist groups waging war against Israel for the last two-plus weeks, another sign that the border crisis has wide-ranging national security implications.
First reported by the Daily Caller News Foundation's Jennie Taer, the "Situational Awareness" bulletin sent Friday is titled "Foreign Fighters of Israel-Hamas Conflict May Potentially be Encountered at Southwest Border" and is marked "unclassified/law enforcement sensitive."
The bulletin explains:
San Diego Field Office Intelligence Unit (SDFO-FITU) assesses that individuals inspired by, or reacting to, the current Israel-Hamas conflict may attempt to travel to or from the area of hostilities in the Middle East via transit across the Southwest border.
Foreign fighters motivated by ideology or mercenary soldiers of fortune may attempt to travel to or from the US to or from countries in the Middle East through Mexico.
Among the items border agents are advised to watch for are military patches for Hamas, Palestinian Islamic Jihad (PIJ), and Hezbollah terrorist organizations — all funded by the regime in Iran.
Other possible indicators are military age males, military gear including weapons, camouflage, and the previously mentioned terror group patches, single travelers, and those with undetermined return plans or associations to Israel, the Palestinian territories or regional affiliations.
Agents are also given "questions of interest" to ask potential suspects with ties to the terrorist organizations to probe whether individuals have any "association with military or security services or government civilian agencies?" or "personal or familial association with Hamas, Hezbollah, Palestinian Islamic Jihad (PIJ), Popular Front for the Liberation of Palestine (PLFP) or any other similar groups?"
It's unsurprising that there's growing fear that terror-linked individuals may be seeking to take advantage of the border crisis after a record-setting number of apprehensions and "gotaways" have been recorded on the Biden administration's watch, including an alarming number of individuals whose names matched with people listed in U.S. terror watch lists.
https://www.foxnews.com/world/iceland-pm-goes-strike-womens-equal-pay-gender-based-violence
Iceland PM goes on strike over women's equal pay, gender-based violence
The prime minister of Iceland went on strike Tuesday in protest of gender discrimination.
Prime Minister Katrin yaker-stoder joined women across the country in a national demonstration against pay discrimination and gendered violence.
"We have not yet reached our goals of full gender equality and we are still tackling the gender-based wage gap, which is unacceptable in 2023," Jakobsdóttir told news outlet mbl.is.
The nationwide protest, referred to as a "women's strike," is the first full day of widespread female absence from the workforce since 1975.
"I will not work this day, as I expect all the women [in cabinet] will do as well," Jakobsdóttir said.
The original protest aimed to emphasize the importance of women in the workforce and urge an end to disparate wages between female and male workers.
Women in Iceland earn approximately 10% less on average compared to their male counterparts, according to the World Economic Forum.
As Icelandic women's rights movements have made greater headway in their campaigns, the scope and meaning of the protests have expanded to include other issues.
"We are still tackling gender-based violence, which has been a priority for my government to tackle," yakob-stoder said.
Iceland consistently ranks among the most gender-equal countries in the world in terms of education, employment and health care.
Jakobsdóttir's cabinet maintains an equal number of men and women and Iceland's national parliament hovers just under 50% female.
Past Icelandic women's strikes have sparked similar protests in other European countries.
https://thepostmillennial.com/coca-cola-quietly-deletes-mentions-of-hamas-supporting-blm-from-company-website?utm_campaign=64487
Coca-Cola quietly deletes mentions of BLM from company website
Coca-Cola has been a financial sponsor of Black Lives Matter for years, however, references to its support of the organization appeared to have vanished from its website in light of recent posts shared by the group siding with Hamas.
BLM Chicago and an organizer from Los Angeles are among those associated with the purported civil rights group to have publicly voiced support for the Iranian-backed Palestinian terrorist group following its latest wave of violence.
On Friday, Texas Sen. Ted Cruz (R) revealed that he had caught the beverage giant "red-handed," posting two screenshots of its website, one of which included references to BLM, and an updated version that does not.
Coca-Cola had originally stated on its website that Sprite, which it owns, had donated $500,000 to the Black Lives Matter Global Network to "support the group's voting education efforts and their February 2021 Black Future Month program."
"We're in this for the long haul," brand lead Aaliyah Shafiq noted. "Lasting change will not happen overnight, so we're committed to continuing to amplofy the voices and efforts of our community, to listen and learn, and to actively help create a better shared future for America."
In the updated version of their website, Shafiq's quote is still there, however, the entire sentence highlighting the $500,000 contribution has been deleted.
"Editing your website is not enough," Cruz said. "Americans DEMAND an apology."
The posts in question were shared in the days following Hamas' brutal massacre of civilians in Israel.
BLM Chicago featured an image of a paraglider with a Palestinian flag attached to his parachute. "That is all that it is!" was the caption.
Before long, users utilized X's Community Notes feature to point out important context.
"The Palestinian terrorist group Hamas used armed gun men on Paragliders to enter a rave in Israel to kill over 260 innocent people partying," the note read, adding that, "previous to this incident, Palestinians were not know[n] for paragliding."
It was later deleted, though the group did remain steadfast in its support for the Palestinians over Israel.
"For every corporate donor who sent millions to BLM—including Amazon, Apple, BlackRock & Bank of America—do you regret supporting such an antisemitic organization?" Cruz asked on his podcast Wednesday, according to Fox News.
The organizer from Los Angeles, Dr. Melina Abdullah, said in her post that "we must stand unwaveringly on the side of the oppressed," adding, "when a people have been subject to decades of unimaginable violence, their resistance must not be condemned, but understood as a desperate act of self-defense."