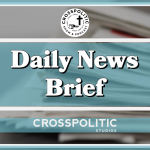 This is Garrison Hardie with your CrossPolitic Daily News Brief for Wednesday, October 25th, 2022. Happy hump day everyone! I hope everyone is having a fantastic week thus far! Now, let's talk about our FLF Magazine:
FLF Magazine:
We are on a mission to make magazines great again. So, subscribe to our Fight Laugh Feast magazine. This is a quarterly mini-book like experience, packed full of a variety of authors that includes theologically-driven cultural commentary, a Psalm of the quarter, recipes for feasting, laughter sprinkled throughout the glossy pages, and more. Sign your church up, sign your grumpy uncle up, and while you are at it…sign up the Pope, Elon Musks, and Russel Moore.
Disclaimer: This magazine will guarantee various responses and CrossPolitic is not held liable for any of them. Reading the whole magazine may cause theological maturation, possibly encourage your kids to take the Lord's Supper with you, and will likely cause you to randomly chuckle in joy at God's wondrous world. Sign up today! Four issues and $60 per year, that is it. Go to fightlaughfeast.com right now to sign up!.
Now… onto the news:
https://thepostmillennial.com/breaking-new-york-city-ordered-by-court-to-reinstate-all-those-fired-over-covid-vaccine-mandates?utm_campaign=64487
New York City ordered by court to reinstate all those fired over Covid vaccine mandates
On Tuesday, the New York Supreme Court ruled that New York City must reinstate all employees that were fired because of their vaccination status.
The order also states that for those fired, backpay must be issued.
The lawsuit was filed against the City of New York, the New York City Department of Health and Mental Hygiene, the New York Department of Sanitation, Commissioner of the Department of Health and Mental Hygiene David Chokshi, and New York City Mayor Eric Adams.
"Though vaccination should be encouraged, public employees should not have been terminated for their noncompliance," the court stated.
"Based upon the Petitioners' vague denials of their exemptions, the fact they were kept at full duty for several months while their exemptions were pending, the Mayor's Executive Order granting exemptions to certain classes of people, and the lifting of the private sector mandate, this Court finds the Commissioners Orders of October 20, 2021, and December 13, 2021, as well as the Mayor's Executive Order No. 62 to be arbitrary and capricious," the court ruled.
The petitioners of the suit are former Department of Sanitation employees that were terminated from their positions in February 2022.
The petitioners argued that Adam's Executive Order No. 62, which provided exemptions for athletes, performers, and other artists, "rendered the public employee vaccination mandate arbitrary and capricious or unconstitutional."
The court noted that all but one of the petitioners applied for exemptions, and questioned why the city could not keep its vaccine or test policy.
The court did not argue against issuing temporary vaccination mandates in a public health emergency, but added, "however, ordering and enforcing that vaccination policy on only a portion of the populace for an indefinite period of time, is akin to legislating."
The court also stated, "being vaccinated does not prevent an individual from contracting or transmitting Covid-19. As of the day of this Decision, CDC guidelines regarding quarantine and isolation are the same for vaccinated and unvaccinated individuals."
"The Petitioners should not have been terminated for choosing not to protect themselves.
"We have learned through the course of the pandemic that the vaccine against Covid-19 is not absolute. breakthrough cases occur, even for those who have been vaccinated and boosted. President Joseph Biden has said that the pandemic is over. The State of New York ended the Covid-19 state of emergency over a month ago," the court said.
https://thepostmillennial.com/breaking-hillary-clinton-already-accusing-right-wing-extremists-of-stealing-2024-election?utm_campaign=64487
Hillary Clinton already accusing 'right-wing extremists' of stealing 2024 election
https://twitter.com/i/status/1583496354734538756 – Play Video
Former presidential candidate Hillary Clinton in a video posted to social media accused "right-wing extremists" of having "a plan to literally steal the next presidential election."
The video was posted by an organization called Indivisible which claims on its website to be "a grassroots movement of thousands of local Indivisible groups with a mission to elect progressive leaders, rebuild our democracy, and defeat the Trump agenda."
The failed presidential candidate has repeatedly questioned the results of the 2016 election.
In 2021, Clinton said that Russian President Vladimir Putin helped to rig the 2016 election against her in an interview on MSNBC. "Putin is the great disrupter. He has a clear mission to undermine democracies, first and foremost, the United States."
Almost immediately after the statement, Clinton also claimed that anyone who disputed the results of the 2020 election was working for the Kremlin, either directly or indirectly.
According to the organization's website, "Indivisible was founded in response to Trump's election – but we know that Trump is a symptom of a sick democracy, not its cause. We face two fundamental problems: first, our democracy was rigged from the start in favor of the white and wealthy."
The groups added, "in the last few decades, an alliance of white nationalists and the ultra-rich have been actively working to further undermine democracy and cement their hold on power permanently. That's how we ended up with Trump. We have to build a democracy that reflects a broad, multiracial "we the people," one that works for all of us and is sustained by all of us. Only then will we be able to achieve a progressive vision for our future."
The group has its own 501c3, 501c4, and PAC.
https://www.newsmax.com/newsfront/elon-musk-twitter-deal-closing/2022/10/25/id/1093350/
Musk May Close Twitter Deal by Friday
Elon Musk has pledged to close his $44 billion Twitter Inc. deal by Friday in a video conference call with bankers who are helping fund the deal, Bloomberg News reported on Tuesday, citing people with knowledge of the matter.
The banks have finished putting together the final credit agreement and are in the process of signing the documentation, according to the report, in one of the last steps in moving funds to Musk.
Twitter and Musk's lawyers were not immediately available for comment.
Musk has pledged to provide $46.5 billion in equity and debt financing for the acquisition, which covers the $44 billion price tag and closing costs.
Banks, including Morgan Stanley and Bank of America Corp., have committed to provide $13 billion of debt financing to support the deal.
Equity investors, including Oracle Corp. co-founder Larry Ellison and Saudi Prince Alwaleed bin Talal, will pitch in with $7.1 billion.
https://thepostmillennial.com/breaking-hillary-clinton-already-accusing-right-wing-extremists-of-stealing-2024-election?utm_campaign=64487
Not Even Green Energy Execs Are Buying Biden's Offshore Wind Plan
Wind energy executives are skeptical of the Biden administration's plan to significantly expand offshore wind power in the next several years due to rising costs and the slow permitting of offshore leases, according to the Financial Times.
The Biden administration aims to grow U.S. offshore wind generation from less than 1 gigawatt currently to 30 gigawatts by the end of 2030 as part of its aggressive green energy transition, according to a White House fact sheet. However, wind executives are concerned that the administration's target is too ambitious as projects are constantly delayed by a permitting bottleneck and expensive leases, the FT reported.
Various energy projects including offshore wind developments face difficulties in receiving correct permitting from the government, which delays construction and increases costs, according to the FT. Democratic Sen. Joe Manchin of West Virginia proposed a permitting bill in September that could have accelerated the federal permitting of key wind, solar and fossil fuel projects; however, the measure was pulled from a recent government funding bill after it failed to gain sufficient support in the Senate.
Manchin's bill would have also given the Federal Energy Regulatory Commission (FERC) more power to expedite the permitting of transmission lines that transport electricity produced by offshore wind and other renewables to urban areas. Roughly 77 gigawatts of offshore wind are awaiting transmission, according to the Department of Energy's August wind energy report.
Executives also claim prices of federal leases for offshore wind developments are too high, which makes it difficult for wind developers to make profits, the FT reported. The federal New York Bight offshore wind auction, which offered six lease areas totaling over 488,000 acres, received $4.37 billion total in winning bids, representing the nation's highest-grossing competitive offshore energy lease sale in history, according to an Interior Department press release.
Inflation is a further concern for wind firms and their equipment manufacturers as the cost of materials continues to rise, according to the FT.
https://townhall.com/tipsheet/katiepavlich/2022/10/24/new-border-patrol-numbers-show-an-alarming-number-of-terrorists-entering-the-us-n2614917
New Border Patrol Numbers Show an Alarming Number of Terrorists Entering the U.S.
New numbers released in a calculated, late Friday night news dump over the weekend show an alarming and increasing number of suspected terrorists are entering the United States through the southern border with Mexico.
According to the data, Border Patrol agents have encountered 98 suspected terrorists in fiscal year 2022. In 2021, that number was 15. In 2020, it was three and in 2019, zero.
"The Terrorist Screening Dataset (TSDS) – also known as the "watchlist" – is the U.S. government's database that contains sensitive information on terrorist identities. The TSDS originated as the consolidated terrorist watchlist to house information on known or suspected terrorists (KSTs) but has evolved over the last decade to include additional individuals who represent a potential threat to the United States, including known affiliates of watchlisted individuals," U.S. Customs and Border Protection explains.
The current number only includes suspected terrorists who were caught, not the number embedded in the estimated one million illegal aliens who evaded law enforcement while entering the country and disappearing into American communities.
Republican Congressman Andy Biggs, who represents Arizona's 5th Congressional District, is sounding the alarm about the increase.
Armored Republic
The Mission of Armored Republic is to Honor Christ by equipping Free Men with Tools of Liberty necessary to preserve God-given rights. In the Armored Republic there is no King but Christ. We are Free Craftsmen. Body Armor is a Tool of Liberty. We create Tools of Liberty. Free men must remain ever vigilant against tyranny wherever it appears. God has given us the tools of liberty needed to defend the rights He bestowed to us. Armored Republic is honored to offer you those Tools. Visit them, at ar500armor.com
https://thepostmillennial.com/breaking-wnbas-brittney-griner-to-serve-9-year-term-in-russian-penal-colony-after-losing-appeal?utm_campaign=64487
WNBA's Brittney Griner to serve 9-year term in Russian penal colony after losing appeal
A Russian court upheld the nine-year prison sentence for American basketball player Brittney Griner on Tuesday for drug possession. Griner appeared via video at the Moscow Regional Court from a penal colony outside the city, where she is imprisoned and will remain.
Griner was convicted on August 4 after police found vape canisters containing cannabis oil at the Moscow airport where she landed.
Griner's appeal was rejected after a ruling on Tuesday to uphold the sentence. The ruling did state that Griner will have time served in prison with her pre-trial detention now being included in her sentence, with each day of pre-trial detention being counted as 1.5 days in prison. Griner will thus have to serve around eight years in a Russian prison, reports AP.
Griner's arrest came as tensions were high between Russia and the United States and just days before Moscow made the call to send troops to Ukraine. Griner played basketball in a Russian women's league during the WNBA's off-season.
Griner said that she packed the canisters accidentally and that she was prescribed cannabis for pain. She pleaded guilty to the charge. Griner's sentence of 9 years was close to the maximum of 10, with her legal team saying that the punishment was excessive.
Even NBA star Steph Curry got in on the action in Brittany's defense:
https://twitter.com/i/status/1582558686869737474 – Play Video
The White House told reporters following her conviction that they were aggressively pursuing every avenue to bring home Griner to the United States.
White House press secretary Karine Jean-Pierre said that negotiations between the Biden administration and Russia to bring Griner home remain ongoing.
In July, there were reports that the Biden administration offered to exchange a convicted Russian arms trafficker Viktor Bout for the release of Griner and Pail Whelan.