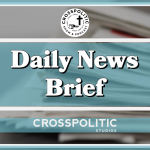 This is Garrison Hardie with your CrossPolitic Daily News Brief for Wednesday, October 4, 2023.
Story Real Estate:
Home. It's where you build your legacy. Where traditions are started, seeds are planted, meals are shared, and stories are told. Home is where you prepare to go out into the world. Finding the home that's perfect for your family is a big job.
Story Real Estate is Moscow's top real estate team. They give people real estate advice all over the country. Family homes, investments, land, new construction, or commercial— they know real estate.
If you've thought about a move to Moscow or anywhere in the country, reach out to get connected with a Story Real Estate agent. Wherever you're going, they can help guide you Home. Visit storyrealestate.com.
https://thepostmillennial.com/breaking-kevin-mccarthy-removed-as-house-speaker?utm_campaign=64487
Kevin McCarthy REMOVED as House Speaker
Members of the House of Representatives voted on Tuesday to oust Republican Speaker Kevin McCarthy.
The final tally showed 216 in favor of the motion to vacate, while 210 were opposed.
Though McCarthy is no longer third in line to the presidency, he will retain his seat. The House will now have to decide who, if anyone, has enough votes to take over as Speaker.
Until then, Rep. Patrick McHenry (R-NC) will act as Speaker pro tempore.
Earlier Tuesday, Rep. Matt Gaetz (R-FL) stood and repeated his motion to vacate. Rep Tom Cole (R-OK) rose to offer to table that motion. The 15-minute vote saw 208 Republicans vote in favor of McCarthy's leadership, and 11 against. All Democrats were in favor of vacating.
Following a 60-minute back and forth between those for and against vacating McCarthy's position, the final vote was taken.
Gaetz was able to initiate proceedings on his own thanks to the inclusion of the Jeffersonian Motion in the deal made when McCarthy accepted the Speakership in January. Under the agreement, a single person was permitted to introduce a motion to remove McCarthy if he "goes back on his word or policy agenda."
In the months since, McCarthy has been criticized by members of his own party for decisions regarding the appropriation of funds to Ukraine, among other things. He recently drew ire from Gaetz and his crew for teaming up with Democrats to pass a 45-day stopgap resolution to keep the government running, despite there not being a properly passed continuing resolution.
"You don't know chaos until you've seen where this Congress and this uniparty is bringing us," the Florida Congressman said in response to suggestions from reporters that removing the Speaker would throw the House into disarray.
Others, including Reps. Marjorie Taylor Greene (R-GA) and Thomas Massie (R-KY), disagreed with Gaetz, and indicated that they would support McCarthy.
"I agree with you we need serious change," Greene said, "but there is no plan and no one capable even stepping up. Last time Freedom Caucus threw out a Speaker, we ended up with Paul Ryan who did not support President Trump's agenda. Nothing can truly change until Trump is back in the WH."
Prior to the vote, McCarthy admitted it was "likely" that he would be vacated, noting that if all Democrats sided against him, they would only need five Republican votes.
https://dailycaller.com/2023/10/03/dnc-officials-minorities-representation/
DNC Officials Are Freaking Out Because They Can't Get Enough Minorities To Represent Them
High-ranking officials at the Democratic National Committee (DNC) are expressing significant worries that the committee is not meeting its self-established minority representation goals, Politico reported.
Six present and former committee members are increasingly fretting about the lack of desired diversity among delegates selected to attend the 2023 DNC convention, according to Politico. At the same time, President Joe Biden's campaign is hemorrhaging minority support, which is crucial for securing a second term.
"I keep looking at these diversity goals in big states like New York, like California. And, for some reason, whether it's the African American community, Black community, the LGBTQ+ community, or Hispanic community, [the] numbers continue to decrease," political strategist and former chair of the DNC Donna Brazile stated at a recent committee meeting in Washington, D.C., according to Politico.
"It raises a red flag in my judgment," Brazile told Politico in an interview. "And then I try to find out what the hell is it."
Biden's support among black, Latino and Asian voters plummeted from 63% in July to 47%, according to a Monmouth University poll published on Monday. The poll also found that Trump's support from these demographics increased from 23% to 33% over the same period of time.
The DNC employs a formula to determine delegate diversity figures, which is tailored for each state and considers factors like census data and Democrat-leaning status, according to Politico.
"If African Americans are 10 percent of the population, they're usually like 15-20 percent of the Democratic vote," political scientist and DNC member Elaine Kamarck stated, according to Politico. "So that's how the math starts to work for the affirmative action goals."
Biden won the 2020 presidential election with support from more than 70% of nonwhite voters, according to The New York Times.
https://nypost.com/2023/10/03/disturbing-video-shows-moment-beloved-activist-poet-is-randomly-stabbed-to-death-in-front-of-girlfriend-on-nyc-street/
Disturbing video shows moment beloved activist, poet is randomly stabbed to death in front of girlfriend on NYC street
Disturbing new video shows the moment an activist and poet was randomly stabbed to death in front of his girlfriend – who desperately tried to get help in the aftermath of the harrowing attack in Brooklyn.
Ryan Carson, 32, and his girlfriend can be seen sitting on a bus stop bench in Bedford-Stuyvesant and speaking with his girlfriend as the two made their way home from a wedding on Long Island just before 4 a.m. on Monday, according to the surveillance footage.
Wearing a gray suit, Carson and the young woman, dressed in a blue, sleeveless gown, get up and begin to walk down the block, in the same direction as a man in a dark colored sweatshirt who had just strolled past the pair at the B38 bus stop, with his hood up over his head and his hands in his pockets.
Just feet ahead of them, the stranger begins kicking scooters parked near the curb for no apparent reason, the footage – obtained by The Post on Tuesday – shows.
Suddenly, the unhinged man turns to Carson
The community activist – who replied that he wasn't looking at anything – then stepped between his girlfriend and the irate stranger, who began to advance on the couple.
"I'll kill you!" the maniac threatens as Carson pleads with him to "Chill! Chill!" and holds up his hand.
But the attacker pursues Carson, pulling a knife, as the victim's girlfriend – running up behind them – is heard frantically yelling "Please, please, please!"
As he runs, Carson tumbles over the bench the couple had earlier been sitting on. The assailant then grabs his jacket and knocks him onto the ground, savagely stabbing him multiple times in the chest as the victim's girlfriend catches up to them.
He then walks away as Carson lies curled up on the ground, before returning and approaching the terrified woman, who raises her hand to stop him.
The sicko spits on her – while still clutching the knife – before kicking Carson's mortally wounded body and storming away.
An unknown woman then appears near the corner of the frame, yelling, "Don't hurt him!" at the crazed man and repeating what sounds like the name "Brian" or "Bryan." Investigators believe that woman and the suspect knew each other prior to the slaying, police sources said Tuesday.
"I'm so sorry!" the same woman exclaims as she approaches Carson, still lying on the sidewalk, as his worried girlfriend stands at his side.
The video cuts off as the girlfriend kneels over her loved one's body, gently moving his arm that had been hanging over his face.
She held her gravely injured boyfriend in her arms before he was rushed to Kings County Hospital Center, but it was too late – as the stab wound had pierced his heart, according to cops and sources.
The horrific attack happened at Lafayette Avenue and Malcolm X Boulevard, just blocks from the Bedford-Nostrand avenues train station, where the couple had gotten off the subway on their way home from the wedding, cops said.
No arrests had been made in the heinous crime by Tuesday afternoon, but a "Wanted" poster circulated showing a close-up of the suspect wearing a black "Champion" sweatshirt.
Men, this is a somber reminder it's always a good idea to carry a firearm to protect yourself and those you love.
And finally…
https://www.dailywire.com/news/chicago-airport-now-sheltering-hundreds-of-illegal-migrants-as-city-waits-on-tents
Chicago Airport Now Sheltering Hundreds Of Illegal Migrants As City Waits On Tents
Chicago is now sheltering hundreds of illegal migrants at O'Hare International Airport as the city waits for new shelters to be built.
The hundreds of recent arrivals, including babies and the elderly, live in a shuttle bus center at the airport's Terminal 1, where they sleep on cardboard and use airport bathrooms, the Associated Press reported.
Up to 500 migrants have lived at O'Hare at the same time in the crowded area where privacy is a curtain closed with staples, although the migrants have spread out beyond the curtain, some sleeping along windows as travelers walk by.
Medical care is limited, and germs reportedly spread quickly in the living area.
A private firm watches the migrants and their activities.
The haphazard shelter situation has raised concerns about public health as well as safety.
"It was supposed to be a stop-and-go place," said Vianney Marzullo, one of the few volunteers at O'Hare. "It's very concerning. It is not just a safety matter, but a public health matter."
Some migrants are also living at Chicago's other airport, Midway International Airport, about 20 miles south of O'Hare. Others are sleeping on the floors of police stations.
Chicago has been scrambling to respond to a migrant crisis before the cold winter months arrive. The country's third-largest city has experienced an influx of about 14,000 migrants recently, many from Venezuela, and has already spent at least $250 million on the issue.
Last month, the city of Chicago signed a $29.4 million contract with a private security firm to build massive winterized camps for newly arrived illegal migrants. The firm will be responsible for building, staffing, and operating the huge tents, which must be able to house between 250 and 1,400 migrants.
Chicago Democratic Mayor Brandon Johnson faced pushback last month when he asked all 50 city council members to find two acres in their wards for a large tent that could house 200 migrants.
"I've looked in my ward. I just don't have any available space. I have one of the most dense wards in the city," Alderman Brian Hopkins, whose ward includes parts of downtown, said last month.
In the meantime, Chicago leaders have been begging the federal government for help with the migrant crisis.
"Let me state this clearly: the city of Chicago cannot go on welcoming new arrivals safely and capably without significant support and immigration policy changes," Johnson said in late August.
The federal government has already given Chicago and Illinois at least $8.5 million for the migrant crisis.
Other major cities are battling a migrant problem as well.
New York City is struggling to process about 113,000 migrants who have streamed into the city since last summer. New York also set up tent shelters for migrants last year but ran into issues, including flooding in one of those shelters.
Other cities like Boston and Atlantic City, New Jersey, have rejected the idea of sheltering migrants in airports.