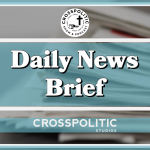 Daily News Brief for Wednesday September 1st, 2021
Folks we are just a week away from our Fight Laugh Feast Conference in Tennessee…just 8 days! So, if you cannot physically make it to the conference, we still have you covered! Join our club, and we will be living streaming all the talks in our club portal and in our app! So, go to FightLaughFeast.com.
This is like saying, we lit a house on fire, and then rescued 40%. An amazing evacuation.
American University of Kabul students trying to flee couldn't get to airport
https://thehill.com/policy/international/569934-american-university-of-kabul-students-trying-to-flee-couldnt-get-to
According to the Hill:
"Students and alumni of the American University of Afghanistan (AUAF) attempting to flee the country found they were unable to enter the Hamid Karzai International Airport, The New York Times reported.
According to the Times, current and former students of AUAF gathered a safe house on Sunday and rode on buses to the Kabul airport. However, the were informed after seven hours of waiting for clearance that the airport gates were a security threat and that civilian evacuations would end on Monday, the Times reported.
"I regret to inform you that the high command at HKIA in the airport has announced there will be no more rescue flights," the AUAF administration told students in an email, according to the Times.
The group was also told the university had given their names to Taliban militants running checkpoints around the airport, the Times reported.
"We are all terrified, there is no evacuation, there is no getting out," a 24-year-old sophomore at AUAF told the Times.
AUAF president Ian Bickford left the campus when it was shut down shortly after the Taliban takeover of Kabul along with other foreign staff members. The Times reported that Bickford said he is working with the State Department to ensure the evacuation of over a thousand current and former students, though last week's attack on the airport has complicated this effort.
The State Department declined comment, citing privacy concerns for the individuals involved."
Meanwhile: Taliban commit 'house-to-house executions' in Kabul after US exit as chilling audio demonstrates Afghans' fear
https://www.foxnews.com/world/taliban-kabul-executions-afghanistan-gunshots-audio?cmpid=fb_fnc
Play Audio:
According to Fox:
"Taliban militants were carrying out "house-to-house executions in Kabul" after the U.S. departure, a senior U.S. source told Fox News Investigative journalist Lara Logan.
President Biden did not deny a Politico report, confirmed by Fox News, that U.S. officials in Kabul gave the Taliban a list of American citizens, green card holders, and Afghan allies in an effort to grant them entry to the airport which resulted in outrage from military officials behind the scenes. The president said "there may have been" such a list. "Basically, they just put all those Afghans on a kill list," one defense official told Politico.
Hours after the departure of U.S. troops, the official Taliban Twitter account celebrated the withdrawal.
"The last American soldier left Kabul airport at 9pm Afghan time tonight and our country gained full independence. Thank God and blessings," the Taliban account tweeted. "
This came from, get this: Official Twitter Account of the Spokesman of Islamic Emirate of Afghanistan, Zabihullah Mujahid
But Trump's tweets were mean.
Plug:
" Let's talk about self defense and firearms. Jesus commanded in Luke 22:36 "he that hath no sword, let him sell his garment, and buy one"; should we likewise carry a pistol and defend those we love? <allow hosts to comment> Shan and his team at Werkz specialize in concealed carry holsters for pistols with lights. They believe defensive pistols should have a light and a holster because violent encounters often happen outside the home, and in the dark. Werkz offers holsters for 1,274 pistol and light combinations, plus can help outfit your pistol with a light. Go to Werkz.com/CrossPolitic and be prepared to defend day and night."
Israel registers almost 11,000 COVID cases, marking new record
https://www.jpost.com/health-and-wellness/israel-registers-almost-11000-cases-in-a-day-marking-new-record-678227
Israel has over 60% vaccination rate, one of the highest in the world (US at 53%), and yet here you go. According to the Jerusalem Post:
"Israel registered close to 11,000 COVID-19 cases on Monday, the Health Ministry reported Tuesday, marking a new record since the start of the pandemic.
The number of patients in serious condition has remained stable, but with the new school year set to begin on Wednesday, officials fear there will be a further increase in infections.
"I expect that morbidity will rise further, but I hope it will not be a new outbreak," Health Ministry Director-General Nachman Ash told Channel 12.
At least 10,947 new virus carriers were identified on Monday, with 7.65% of people tested returning a positive test. On only one other occasion since the beginning of the pandemic has the country recorded more than 10,000 cases. There were 10,118 on January 18, during the peak of the third wave, the most virulent and deadliest the country experienced."
FDA Does a Bait and Switch with COVID Shots
https://lc.org/newsroom/details/082721-fda-does-a-bait-and-switch-with-covid-shots
This article come from Liberty Council:
The Food and Drug Administration (FDA) has done a bait and switch by announcing it approved its "first COVID-19 vaccine" in order to push the "vaccine" mandates and protect the Pfizer pharmaceutical company from legal liability. However, there is currently no fully licensed COVID shot on the United States market.
Albeit confusing, and probably intentionally so, this summarizes the current status of the Pfizer-BioNTech shots:
All existing Pfizer vials (in the hundreds of millions), remain under the federal Emergency Use Authorization (EUA) (meaning people have the "option to accept or refuse");
The third or "booster" Pfizer shot is identical to the above and remains under the EUA with limited use to certain categories of people;
BioNTech received FDA approval for people ages 16 and above under the name Comirnaty, but there are no Comirnaty doses available in the United States;
In other words, there is currently NO FDA approved COVID-19 injection available anywhere in the United States. Every COVID shot in America remains under the EUA law and thus people have the "option to accept or refuse" them; and
Even when an FDA approved COVID shot becomes available, individuals are protected by federal law and many states laws from being forced to get these shots based on their sincere religious beliefs or conscience rights.
Despite whether these COVID shots are licensed or not, they cannot be mandatory under Title VII. In general, employee vaccine religious exemption requests must be accommodated, where a reasonable accommodation exists without undue hardship to the employer, pursuant to Title VII of the Civil Rights Act of 1964. Many people hold sincere religious beliefs against taking the COVID shots or taking those derived from or which used at any stage of the development aborted fetal cell lines.
Liberty Counsel Founder and Chairman Mat Staver said, "The FDA has apparently tried to deceive people by issuing its two confusing letters without proper explanation. Despite the FDA's sleight of hand, there is currently no FDA approved COVID shot available in the United States. Even if there were an FDA approved COVID shot available, people still may request that employers, schools, and the military accommodate their sincerely held religious beliefs."
Gabriel Gipe, Public high school teacher at Inderkum High School in Sacramento, CA had this to say about discipling children:
Play clip: https://youtu.be/83b_u5V51U8
Kanye, Kirk Cameron lending support to faith-based crowdfunding nature series 'The Riot and the Dance'
https://www.christianpost.com/entertainment/first-faith-based-nature-series-the-riot-and-the-dance.html
According to the Christian Post:
"The Riot and the Dance" is following in the footsteps of "The Chosen" by inviting viewers to invest in bringing to life a nature series that shows creation was intentionally designed by a divine Creator.
Dubbing itself the "first high production" nature series, the show specializes in acknowledging God's hand in the beauty of nature. While most mainstream nature series ignore or deny God's involvement in creation, "The Riot and the Dance" is overt in its Christian messaging.
In the show's pilot episode, host Gordon Wilson, a scientist and devout Christian, talks about Jesus and baptism while exploring the beauty of nature.
"Working on 'The Riot and The Dance' is more than a dream come true. For a scientist and animal lover, there's nothing like adventuring in the field. And now, thanks to our fantastic production crew, I can bring millions of families along for the ride, celebrating creation and the Artist behind every fantastic critter," Wilson, who also hosted the successful documentaries "Earth" and "Water," said in a statement shared with The Christian Post.
He added: "Faith-based nature docs have never had space in the industry. I'm still amazed that such a shake up is really happening, and I'm beyond blessed to be a part of it."
Like the hit series "The Chosen," which has generated over $70 million in crowdfunding, "The Riot and the Dance" has also partnered with Angel Studios for distribution. Show creators are giving viewers an opportunity to invest in the series. They are hoping to raise $5 million in 30 days to bring season one to life and send the team around the world.
The show has also garnered the support of numerous celebrities, including Kirk Cameron, Kanye West, and "The Chosen" creator Dallas Jenkins.
Roll clip: https://www.christianpost.com/entertainment/first-faith-based-nature-series-the-riot-and-the-dance.html
Closing
This is Gabriel Rench with Crosspolitic News. Support Rowdy Christian media by joining our club at fightlaughfeast.com, downloading our App, and head to our annual Fight Laugh Feast Conference next fall. With your partnership, together we will fight outdated and compromised media, engage news and politics with the gospel, and replace lies and darkness with truth and light. Go to fightlaughfeast.com to take all these actions. Have a great day. Lord bless