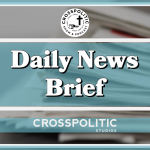 This is Garrison Hardie with your CrossPolitic Daily News Brief for Wednesday, September 13th, 2023.
Accountable2You
Jesus is Lord. In public and in private, every area of life must be subject to his Lordship—and our use of technology is no exception. What captures our attention on the screen either glorifies or dishonors our Lord. That's why Accountable2You is committed to promoting biblical accountability in our families and churches. Their monitoring and reporting software makes transparency easy on all of your devices, so you can say with the Psalmist, "I will not set anything worthless before my eyes." Guard against temptation with Accountable2You, and live for God's glory! Learn more and try it for free at Accountable2You.com/FLF
https://newsbusters.org/blogs/nb/tim-graham/2023/09/11/dehumanizing-msnbcs-jen-psaki-compares-unborn-babies-broccoli-lumps
Dehumanizing! MSNBC's Jen Psaki Compares Unborn Babies to Broccoli, Lumps of Coal
On Sunday's edition of Inside with Jen Psaki, the former Biden press secretary mocked a Republican strategy session where pollsters suggested the term "pro-life" isn't helping the GOP, so they suggested the term "pro-baby" instead. This spurred Psaki to compare babies to….broccoli and a lump of coal.
And to think it's terribly dehumanizing to call a biological male "he" and "his." Apparently, comparing a baby to broccoli and lumps of coal is good, swaggering comedy. Democrats have suggested abortion is about a "choice," not a child. The act of abortion is far more dehumanizing than language.
https://twitter.com/i/status/1700914367326269442 – Play Video
"The branding isn't the problem here! The policy is the problem, it is hard to roll out an effective rebrand for a product that customers hate." … you heard that right.
The "product" is saving babies from the Planned Parenthood slaughterhouse. Democrats get piles of money and logistical support from the slaughterhouse operators.
Psaki was touting an NBCNews.com story which underlined Psaki was doing the usual DNC messaging. The headline was "Democrats say Republican effort to rebrand 'pro-life' won't persuade voters." This story, based on anonymous Senate Republicans, contained all the Democrat arguments that Psaki made in this segment.
https://www.foxnews.com/politics/white-house-confirms-more-than-100b-in-taxpayer-resources-spent-on-ukraine
White House confirms more than $100B spent on Ukraine war
The White House confirmed the Biden administration has spent more than $100 billion on the war in Ukraine, according to documents obtained by Fox News Digital.
The information came as a response from the White House's Office of Management and Budget to Sen. JD Vance, R-Ohio and more than 30 Senate Republicans who demanded in January a "full crosscutting" report on security assistance provided to Ukraine.
Fox News Digital obtained the OMB letter and spreadsheet responding to Vance more than 7 months later.
OMB Director Shalanda Young penned a letter to Vance explaining the security assistance the United States has provided to Ukraine since Feb. 24, 2022.
"With bipartisan Congressional support, the United States has provided security, economic, and humanitarian assistance to Ukraine as it continues to fight to defend its sovereignty following Russia's brutal invasion," Young wrote. "This support has been critical to Ukraine's success on the battlefield, as well as the ability of its people to endure under harsh conditions."
Young stressed that President Biden "has made clear" that the United States "will not waver in our commitment to the Ukrainian people as they fight for their freedom and independence."
Young told Vance that Biden administration officials "agree that transparency and accountability are paramount to ensuring American taxpayers can be confident in their assistance in helping the Ukrainians fight for their country against Russia's aggression."
Young provided Vance a "table that details supplemental funding provided in support of Ukraine in addition to current obligation levels, which OMB shared with Congress" in August.
The table shows that a total of $101,198,000,000 has been obligated/executed by the Office of Management and Budget.
In addition to the $101.2 billion already spent, the spreadsheet appears to outline plans to spend an additional $9.8 billion.
The table breaks down the spending from the Department of Defense; Ukraine Security Assistance Initiative; State Department; and other federal agencies providing aid.
Earlier this year, the Pentagon requested an additional $6 billion due to an accounting error at the Department of Defense. Vance and Sen. Josh Hawley introduced legislation soon after to prevent such mistakes from being repeated.
In addition to the more than $100 billion already spent in Ukraine, the White House last month asked Congress to authorize an additional $24 billion.
Biden's request comprises $13 billion for defense and $11 billion for economic and humanitarian aid in Ukraine.
https://justthenews.com/accountability/whistleblowers/whistleblower-says-cia-officials-were-paid-change-view-covid
Whistleblower says CIA officials were paid to change view that COVID originated in Wuhan lab
Most officers on the CIA's COVID Discovery Team concluded that the coronavirus originated from a laboratory in Wuhan, China, but they changed their positions after receiving a monetary incentive, a senior-level CIA agent told Congress.
The whistleblower informed Coronavirus Pandemic Subcommittee Chairman Rep. Brad Wenstrup and Intelligence Committee Chairman Rep. Mike Turner that at the end of the CIA's COVID review, "six of the seven members of the Team believed the intelligence and science were sufficient to make a low confidence assessment that COVID-19 originated from a laboratory in Wuhan, China," the Ohio Republicans wrote in a letter Tuesday to CIA Director William Burns.
The team's seventh member, who was the most senior person, was the only person to believe that the virus originated from an animal, the lawmakers also said.
"The whistleblower further contends that to come to the eventual public determination of uncertainty, the other six members were given a significant monetary incentive to change their position," the chairmen wrote.
The allegations, which stemmed from a "seemingly credible source" require Congress to investigate how the CIA handled its investigation of COVID's origins, according to the lawmakers.
The Republicans are demanding the CIA hand over information to their committees as part of their probe, and they threatened to use "additional tools and authorities to satisfy our legislative and oversight requirements" if the agency does not comply.
https://news.usni.org/2023/09/09/u-s-canadian-warships-transit-taiwan-strait-2
U.S., Canadian Warships Transit Taiwan Strait
An American guided-missile destroyer and a Royal Canadian Navy frigate sailed through the Taiwan Strait in a tandem Saturday transit, U.S. 7th Fleet announced.
The Japan-based USS Ralph Johnson and HMCS Ottawa passed through the strait after drilling with Japanese ships in the East China Sea, near Okinawa, USNI News reported on Friday.
"The ships transited through a corridor in the strait that is beyond the territorial sea of any coastal state," reads the statement.
"Ralph Johnson and Ottawa's bilateral transit through the Taiwan Strait demonstrates the commitment of the United States and our allies and partners to a free and open Indo-Pacific."
During an exercise earlier this week, Ralph Johnson and Ottawa sailed with big deck helicopter carrier JS Izumo and destroyer JS Samidare as part of the trilateral exercise Noble Stingray that included anti-submarine warfare drills.
A Canadian Broadcasting Corporation crew aboard Ottawa took footage of a People's Liberation Army Navy guided-missile destroyer shadowing the formation.
"The heavily armed Chinese destroyer, the Luyang, closely followed the convoy of ships in the East China Sea, calling out repeatedly to the Canadians on maritime radio, and coming within just over a kilometer of the allied ships," reads the CBC report.
It's unclear if Hohhot followed Ralph Johnson and Ottawa during their transit.
The last reported U.S. surface ship transit was by U.S. Coast Guard cutter Stratton in June.
And lastly a little plug for myself! I've launched a podcast about my favorite topic, sports! It's called Game Time with Garrison & Garrett… you can find us on Apple Podcasts, Itunes, Spotify, and Google podcasts! If you'd give it a listen, I'd greatly appreciate you.