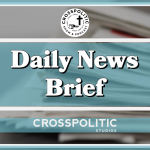 This is Garrison Hardie with your CrossPolitic Daily News Brief for Wednesday, September 14th, 2022. Happy hump day everyone! We're half way through the week, so let's get to it.
Fight Laugh Feast Magazine
Our Fight Laugh Feast Magazine is a quarterly issue that packs a punch like a 21 year Balvenie, no ice. We don't water down our scotch, why would we water down our theology? Order a yearly subscription for yourself and then send a couple yearly subscriptions to your friends who have been drinking luke-warm evangelical cool-aid. Every quarter we promise quality food for the soul, wine for the heart, and some Red Bull for turning over tables. Our magazine will include cultural commentary, a Psalm of the quarter, recipes for feasting, laughter sprinkled through out the glossy pages, and more. Sign up today, at fightlaughfeast.com.
https://thepostmillennial.com/breaking-twitter-shareholders-vote-in-favor-of-approving-elon-musk-s-buyout-deal?utm_campaign=64487
Elon Musk's Twitter buyout deal APPROVED by shareholders
On Tuesday, Twitter's shareholders voted to approve Elon Musk's $44 billion buyout deal that was set in motion earlier this year.
According to The Verge, sources yesterday had suggested that a vast majority of shareholders were set to approve of the bid, with the required majority being locked in before Tuesday's meeting.
The vote comes as Musk is locked in a legal battle with the social media platform over an attempt to terminate the deal, after Musk sought data that confirmed that the number of Twitter accounts that are automated bot accounts is less than 5 percent.
Twitter sued Musk for his attempts to terminate the deal, arguing that Musk created their agreement. The trial is expected to begin in mid-October.
This is a developing story, so check back with me tomorrow for more updates:
Moving on…
https://www.theepochtimes.com/us-inflation-comes-in-worse-than-expected-as-food-shelter-costs-surge_4726956.html?utm_source=partner&utm_campaign=BonginoReport
US Inflation Comes in Higher Than Expected as Food, Shelter Costs Surge
The U.S. annual inflation rate came in at 8.3 percent in August, higher than the market forecast of 8.1 percent, according to the Bureau of Labor Statistics (BLS). This is slightly down from the 8.5 percent reading in July.
The core inflation rate, which strips the volatile food and energy sectors, also advanced to 6.3 percent last month. This was also higher than the market expectation of 6.1 percent and up from 5.9 percent in July.
On a monthly basis, the consumer price index (CPI) rose 0.1 percent, while the core CPI surged 0.6 percent.
Food and shelter costs contributed to the inflation numbers as they increased 11.4 percent and 6.2 percent, respectively, year-over-year.
The energy index eased to 23.8 percent, new vehicles surged 10.1 percent, used cars and trucks jumped 7.8 percent, and apparel edged up 5.1 percent.
Transportation services soared 11.3 percent and medical care services swelled 5.6 percent.
Within the food index, most items were up on both a year-over-year and month-over-month basis.
Bread prices rose 16.2 percent from the same time a year ago, milk soared 17 percent, eggs spiked 39.8 percent, and fruits and vegetables surged 9.4 percent.
BLS data further showed that meat was mostly up across the board, with uncooked ground beef up 7.8 percent, chicken jumping 16.6 percent, ham rising 9.2 percent, and pork surging 6.8 percent.
On a positive note, airline fares, which were up by about 33 percent year-over-year, fell by 4.6 percent on a monthly basis in August.
On the energy front, prices also eased considerably from July to August. Fuel oil slipped 5.9 percent and gasoline declined 10.6 percent. However, electricity prices added 1.5 percent.
U.S. stocks reacted to the hot inflation report. The Dow Jones and the S&P 500 were down 2.7 percent and 3 percent, respectively, during midday trading on Sept. 13, while the NASDAQ was down 3.85 percent.
Financial markets have cheered anytime there is the slightest hint of easing inflationary pressures because investors think this would prompt the Federal Reserve to slow down its pace of rate hikes or to cut interest rates.
Central bank officials have repeatedly stated that they do not intend to turn dovish during this tightening cycle until there is clear evidence that inflation is on a downward trend.
Fed Chair Jerome Powell spooked financial markets last month when he told the Jackson Hole Economic Symposium that households and businesses need to brace for "some pain."
Just what our economy needed! More pain…
Speaking of which…
https://www.theepochtimes.com/stocks-tumble-after-inflation-stays-hotter-than-expected_4727580.html?utm_source=partner&utm_campaign=BonginoReport
Stocks Tumble After Inflation Stays Hotter Than Expected
Stocks are tumbling and disappointment is shaking markets worldwide Tuesday, following Wall Street's realization that inflation isn't slowing as much as hoped.
The S&P 500 sank 2.3 percent in early trading Tuesday, threatening to snap a four-day winning streak. Bond prices also fell sharply, sending their yields higher, after a report showed inflation decelerated to 8.3 percent in August, instead of the 8.1 percent economists expected.
The disappointing data means traders are bracing for the Federal Reserve to ultimately raise rates even higher than expected to combat inflation, with all the risks for the economy that entails.
The Dow Jones Industrial Average lost 603 points, or 1.9 percent, to 31,777, as of 9:45 a.m. Eastern time, and the Nasdaq composite dropped 3.1 percent.
Almost all of Wall Street came into the day thinking the Fed would hike its key short-term rate by a hefty three-quarters of a percentage point at its meeting next week. But the hope was that inflation was in the midst of quickly falling back to more normal levels after peaking in June at 9.1 percent.
The inflation report arrived before trading began on Wall Street, but it sent a thud through markets worldwide.
https://www.theepochtimes.com/15000-union-nurses-in-minnesota-walk-out-on-strike-protesting-low-wages-and-understaffing_4725919.html?utm_source=partner&utm_campaign=BonginoReport
15,000 Union Nurses in Minnesota Begin Strike, Citing Low Wages, Understaffing
About 15,000 union nurses at 15 hospitals across seven different health systems in Minnesota have walked off the job, protesting understaffing and overwork in what's believed to be the biggest strike of private-sector nurses in U.S. history.
The Minnesota Nurses Association strike, slated to last three days, began at 7 a.m. on Sept. 12. The group's membership voted last month to authorize a strike.
Nurses in the Minneapolis and Duluth areas are complaining about low pay, a dearth of resources, and the inability to care for patients properly, such as running wards without lead nurses, and poor shift-scheduling practices.
"I can't give my patients the care they deserve," said Chris Rubesch, the vice president of the Minnesota Nurses Association and a nurse at Essentia Health in Duluth, according to The Washington Post. "Call lights go unanswered. Patients should only be waiting for a few seconds or minutes if they've soiled themselves or their oxygen came unplugged or they need to go to the bathroom, but that can take 10 minutes or more. Those are things that can't wait."
At a Sept. 1 news conference, Minnesota Nurses Association President Mary Turner said, "Our health care and our profession are in crisis."
Response From Hospitals
While negotiations have been continuing since March, the union decided to proceed with the strike because of the hospitals' offer of about 10 percent wage increases over three years. The union had asked initially for a 37 percent boost, before settling on 30 percent.
A spokesperson for the Twin Cities Hospitals Group called the request "unreasonable, unrealistic, and unaffordable," according to the Minnesota Reformer.
Hospital administrations have hired replacement staff and traveling nurses to keep operations running and bring minimal disruption to patient care.
"Nurses have steadfastly refused to go to mediation," Paul Omodt, a spokesman for the Twin Cities Hospital Group, which represents four hospital systems, told The Washington Post. "Their choice is to strike. This strike is on the nurses."
Armored Republic
The Mission of Armored Republic is to Honor Christ by equipping Free Men with Tools of Liberty necessary to preserve God-given rights. In the Armored Republic there is no King but Christ. We are Free Craftsmen. Body Armor is a Tool of Liberty. We create Tools of Liberty. Free men must remain ever vigilant against tyranny wherever it appears. God has given us the tools of liberty needed to defend the rights He bestowed to us. Armored Republic is honored to offer you those Tools. Visit them, at ar500armor.com
https://www.theepochtimes.com/americans-like-work-from-home-so-much-theyll-take-a-pay-cut-to-keep-it-study_4725704.html?utm_source=partner&utm_campaign=BonginoReport
Americans Like Work From Home So Much, They'll Take a Pay Cut to Keep It: Study
Workers in the United States are willing to take a pay cut so that they can continue working from home, states a study published in August.
Work from home (WFH) was found to average 1.5 days a week worldwide, according to the study conducted by a team of international economists and other experts. The study, "Working From Home Around the World," surveyed full-time workers from 27 nations as of mid-2021 and early 2022.
Workers were found to value the option of working from home for two to three days per week so much that they were willing to take a pay cut of 5 percent on average. In the United States, workers were willing to take a 5.7 percent pay cut for remote work options.
On average, workers across countries wanted 1.7 work-from-home days per week after the end of the pandemic. In the United States, the mean desired WFH days per week was at 2.1. However, the actual WFH days in the country was 1.6 while employers were only planning to offer 0.8 days for remote work.
Overall, 5.26 percent of employees working from home for one or more days per week were willing to quit their job if their employer wanted them to return to onsite work for more than five days. In the United States, this number exceeded 40 percent.
In the United States, the risk that city-level fortunes will diverge due to work-from-home models is "more acute" than in other rich nations, the report noted.
"In part, because political decisions about the provision of local public goods are more decentralized in the United States, and local fiscal resources are more closely tied to local economic prosperity. These aspects of federalism give rise to more scope for a downward spiral in city-level fiscal resources and urban amenities."
Compared to other countries, the United States also has more location options sharing the same legal system, cultures, language, etc. As such, if a city's governance were to fail, it is easier to move to another similar but better-performing city, the report stated.
Last month, the Federal Reserve Bank of New York released a report showing that many remote working jobs which popped up during the COVID-19 pandemic have remained open and are expected to remain open in the future.
https://nypost.com/2022/09/12/michael-irvin-chides-stephen-a-smiths-colin-kaepernick-cowboys-idea/
NFL legend Michael Irvin eviscerates idea of Colin Kaepernick joining Cowboys: 'Let's just stop'
The Playmaker was not having it.
After Dak Prescott went down for what might be 6-8 weeks with an injury to his throwing thumb, the "First Take" crew was bouncing around ideas on what Dallas should do in the interim. Tyler Huntley was broached, but no one ultimately thought that the Ravens would part with him with Lamar Jackson unsigned. Stephen A. Smith brought up Colin Kaepernick, and Michael Irvin shot the idea down.
https://youtu.be/-l0Ao24SpVQ Play 2:35-4:37
Did you notice that Smith tried to back away from the bag of crap that he just lit on fire, and left it for all of us to smell? "Oh no I just had five or so people bring it up to me, so I thought I'd ask!" Yeah nice try buddy, we all know you're just a puppet trying to keep this conversation going about Kaepernick. Even when Kap has ability, he wasn't even that good. He was something new in the league when he helped lead the 49ers to the Superbowl against the Ravens all the way back in 2013… but since that season, his numbers fell off a cliff… people clinged to the notion that he was a great qb, all for the sake of pumping up his national anthem protest…
Kaepernick hasn't played in the NFL since 2016, when he kneeled during the national anthem to protest social injustice while a member of the 49ers. Smith has said in the past that former President Donald Trump inflaming this story was revenge on NFL owners for not allowing him to buy the Bills.
This has been Garrison Hardie with your CrossPolitic Daily NewsBrief… if you liked the show, hit that share button down below. If you wanted to sign up for a club membership, sign up for our conference with that club discount, then sign up for a magazine subscription… you could do all of that at fightlaughfeast.com. And as always, if you want to email me a news story, about our conference, or to become a corporate partner with CrossPolitic, email me, at garrison@fightlaughfeast.com.