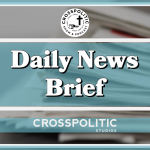 Military Coup? I agree with Fauci? Finally a comedian with a backbone, but first:
Our Fight Laugh Feast Conference was last week, and it went off like one of Choc Knox's shotgun blast. It was so good to see everybody, fellowship, sing some Psalms, drink some delicious local beer, and watch the kids jump on the bouncy castles. There is no rest for the weary around here and so we are actively planning our next conference for Tennessee at the end of September/October 2022. So stay tune for details.
Now if you are not a club member, this should push you over the edge: Besides supporting our efforts (and these efforts need some serious support) to engage culture, take over mainstream media, and fight the liberals and RINOs bent on destroying America, you will also get access to all the conference talks from the Politics of Sex conference in the club portal. So, I dont think you need anymore convincing, just head on over to FightLaughFeast.com to join today!
I agree with this Fauci: https://twitter.com/robbystarbuck/status/1437601768217747457?s=20
"If you don't get vax, you will die"
https://notthebee.com/article/north-carolina-doctor-in-a-regional-hospital-marketing-meeting-asks-to-inflate-covid-numbers-to-be-more-scary-to-the-public-in-order-to-increase-vaccination-numbers
Comedian Jim Breuer won't perform at venues requiring vaccinations
https://thehill.com/blogs/in-the-know/in-the-know/572113-comedian-jim-breuer-wont-perform-at-venues-requiring
According to the Hill:
"Comedian Jim Breuer says he's "absolutely not" performing shows at venues that require proof of COVID-19 vaccinations, calling the public health measures "segregation.""
Video: 1:15
https://www.facebook.com/watch/live/?v=244783007558791&ref=watch_permalink&t=7
COUP: General Milley Secretly Pledged to Warn Chinese Communist Party if Trump Planned a Strike.
According to the National Pulse:
"Through secret backchannels unbeknownst to then-President Donald Trump, General Mark Milley informed leaders from the Chinese Communist Party and Democratic Party that he would not carry out "any kind" of military action ordered by Trump.
The revelations represent a stunning admission of an effective coup d'etat at the top of the U.S. government, with U.S. officials colluding with the Chinese Communist Party in order to limit Donald Trump's powers.
On the first call on October 30th, 2020, just four days before the U.S. election, Milley assured his Chinese Communist Party friends that the U.S. would not attack China:
"General Li, you and I have known each other for now five years. If we're going to attack, I'm going to call you ahead of time. It's not going to be a surprise," he added. "Li took the chairman at his word," The Washington Post notes.
As The New York Times recounts:
Later that day, General Milley spoke to Speaker Nancy Pelosi, who was growing increasing concerned Mr. Trump would lash out and use military force.
"This is bad, but who knows what he might do?" Ms. Pelosi said. "He's crazy. You know he's crazy. He's been crazy for a long time. So don't say you don't know what his state of mind is."
"Madam Speaker," General Milley said, "I agree with you on everything."
General Milley, who as the president's top military adviser is not in the chain of command, tried to reassure Ms. Pelosi that he could stop Mr. Trump.
"The one thing I can guarantee is that as the chairman of the Joint Chiefs of Staff, I want you to know that — I want you to know this in you heart of hearts, I can guarantee you 110 percent that the military, use of military power, whether it's nuclear or a strike in a foreign country of any kind, we're not going to do anything illegal or crazy," he said.
"Well," Ms. Pelosi said, "what do you mean, illegal or crazy?"
"I can give you my word," General Milley said. "The best I can do is give you my word and I'm going to prevent anything like that in the United States military."
And according to Jack Posobiec, he tweeted this out:
"BREAKING: Several Pentagon officers present in Milley's secret meeting are willing to testify against him under oath, per WH official"
Closing
This is Gabriel Rench with Crosspolitic News. Support Rowdy Christian media by joining our club at fightlaughfeast.com, downloading our App, and head to our annual Fight Laugh Feast Conference next fall. With your partnership, together we will fight outdated and compromised media, engage news and politics with the gospel, and replace lies and darkness with truth and light. Go to fightlaughfeast.com to take all these actions. Have a great day. Lord bless