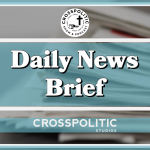 This is Garrison Hardie with your CrossPolitic Daily News Brief for Wednesday, September 27th, , 2023.
Olive Tree Biblical Software:
Discover why more than a million people use the free Olive Tree Bible App as their go-to for reading, studying, and listening to the God's Word.
Start by downloading one of many free Bibles and start taking notes, highlighting verses, and bookmarking your favorite passages. You can read at your own pace, or choose from a large selection of Reading Plans, including the Bible Reading Challenge. When you are ready to go deeper into your studies, Olive Tree is right there with a large selection of study Bibles, commentaries, and other helpful study resources available for purchase. There's also an extensive bookstore that allows you to build your digital library one book at a time and Olive Tree's sync technology lets you pick up where you left off on your tablet, pc or phone and get right to studying on another supported device.
Now here's the best part – You can start with the Olive Tree Essentials Bundle for FREE. Visit www.olivetree.com/FLF and download it today! 
https://dailycaller.com/2023/09/26/bankruptcy-filings-13-month-consecutive-increase-biden-administration/
Now this! The Office ( US ) : Michael declares Bankruptcy– Play 0:03-0:10
Bankruptcy Filings Spiked In 2023 Under The Biden Administration, And You Should Expect More Financial Chaos To Come
Data released Tuesday showed that Americans filed more than 39,000 bankruptcy cases in Aug. 2023, an 18 percent increase from the same time last year.
The data released by Unusual Whales details how, along with personal bankruptcy filings, there were more than 41,600 new bankruptcy cases recorded in August, including for businesses. This marks the thirteenth consecutive month that bankruptcy filings have shown a year-over-year increase under the Biden administration's embarrassing and dangerous economic policies.
The bankruptcy filings are not a surprise to anyone with a finger on the pulse of the domestic and global economy, but likely come as a shock to those just trying to keep afloat. As so many families were lulled into a false sense of financial security during and after the COVID-19 pandemic, their ill-advised spending habits have landed them in hot water.
Many folks bought homes they couldn't afford in the last two years, often with minimal down payments, bad credit and sky-high mortgage rates. Some of these individuals were banking on a pause or total relief of their student loan debt to keep the lights on, but this hasn't really materialized like people thought it would (duh).
The most terrifying thing is that a lot of folks set-up interest-only payments for property purchases for the first five years or so of their mortgage. This means lower payments today, but zero equity build-up in homes these individuals won't be able to afford once they're forced to pay the equity and interest — which will almost definitely lead to more bankruptcies, foreclosures and worse.
https://dailycaller.com/2023/09/25/mayors-fault-blue-city-average-40-vehicle-thefts/
'The Mayor's Fault': Blue City Reports An Average Of 40 Vehicle Thefts A Day
Police officers in Oakland, California, have reported more than 10,000 motor vehicle thefts in the city since the start of 2023, data from the Oakland Police Department (OPD) shows.
The OPD recorded a total of 10,547 motor vehicle thefts — an average of 40 vehicle thefts a day — and a 51% increase from the year-to-date reported number of thefts in 2022, CBS News Bay Area reported. At least 133 vehicles were stolen between Sept. 11 and Sept. 17, and an additional 12 vehicles were carjacked during the same time period, according to the OPD data.
Now I'm no math wiz – but that's a lot of thefts!
Oakland residents have placed pressure on their district attorney and mayor for months to increase the town's police force and security response as crime in the city has continued to escalate. Residents became even more frustrated with local officials over the past week after the city failed to submit an application to the California government to receive additional crime-fighting funds.
"The buck stops with the mayor. This is the mayor's fault. It stops with the mayor. We need to hear from the mayor," Oakland NAACP President Cynthia Adams told CBS on Sept. 18.
Officers admitted that the number of overall crimes in the area is likely much higher because many residents have stopped reporting crimes to the police, according to CBS. Total crime in Oakland has gone up 27% since 2022 while violent crime has increased by 20%, OPD data shows.
The Oakland mayor's office and the OPD did not immediately respond to the Daily Caller News Foundation's request for comment.
https://www.washingtonexaminer.com/policy/healthcare/desire-large-families-50-year-high-america
Desire for large families hits 50-year high in America: Gallup
A growing number of people in America prefer families of three or more children, hitting the highest desire for large families since 1971.
According to a Gallup survey released Monday, the number of people who prefer smaller and larger family sizes are statistically tied, bouncing back from a decadeslong trend of believing one or two children was ideal.
"Overall, this recent survey shows that Americans might finally be climbing out of the anti-family bomb shelter caused by the myths of the 1960's of a population explosion disaster," Terry Schilling, the president of the American Principles Project, told the Washington Examiner. "Favoring more children is a sign that Americans are returning to basic principles and values that life was made for — bringing forth the next generation through the family."
Forty-five percent now favor larger families, with 29% finding three children as ideal, 12% who prefer four, and 2% each who prefer five, six, or more.
That is compared to 47% who believe two or fewer children is ideal, with 44% preferring two children and 3% preferring one. Two percent believe the ideal family should not include children.
Gallup pointed to several social trends from past decades that may have contributed to the decline in having children, including the preference for larger families "plummeting" from 70% in 1967 to 52% in 1972 "fueled at least in part by concerns about a global population explosion, resulting from the 1968 bestselling book entitled The Population Bomb."
The organization started tracking this data in 1936, when 64% preferred three children, reaching a peak in 1945 at 77%. However, by 1973, the strong preference for families of one or two children became the norm, evidenced by the 50% drop in children-per-family from the peak of the baby boom to 1.8 children in 1980.
What stands out to Schilling, however, is that only 8% do not wish to have children, leaving over 90% with the desire for children at any amount.
"The 8% of America that's anti-family has way too much representation in our culture — especially in entertainment, politics, news media, academia, and even corporations," Schilling said.
Gallup notes that people under the age of 30 are at least twice as likely to say they do not want children, but the "vast majority" continue to prefer having children. Twenty-one percent of that age group already has children, and 63% hope to have children in the future.
Moreover, 69% of those who already have children want more, as well as 15% of 18- to 40-year-olds who want to be parents someday. Six percent of childless people aged 41 and older also wished they had children.
While ideal family size is not significantly different from men to women, other demographic traits do trend in certain directions.
Young people aged 18-29 are more likely than any other age group to prefer larger family sizes, and black and Hispanic people are also more likely to prefer larger families. In addition, Republicans, conservative independents, and lower-income residents tend to prefer families with more children.
By contrast, Democrats, non-religious, and wealthy residents are more likely to prefer only one or two children.
Despite stated preferences, birth rates have been on the decline, and adults are starting families much later in life, which is highly correlated to smaller family sizes.
In 2021, the Centers for Disease Control and Prevention reported the average age of a woman who had her first child was 27.3 years, a record high.
Part of the answer for fertility declines, author Melanie Notkin writes in a piece for the Institute for Family Studies, is that much like the effect of The Population Bomb in the 1960s and 1970s, "we have a similar trend with the rise of anti-natalism where its nihilistic supporters believe the world is too sad a place to bring children into, along with climate change 'doomerism.' More practically, the current economy makes family forming more challenging for many young Americans."
However, the public has appeared to cut through some of the popular trends, Schilling told the Washington Examiner.
"There are so many policies across the cultural and economic spectrum that make family formation much more difficult, and it's a true testament to the beauty and intrinsic value of the family that in spite of all the hurdles before us, we still desire children and family," he said.
https://www.newsmax.com/world/globaltalk/biden-poland-billions-aid-ukraine-defense-russia/2023/09/25/id/1135800/
US Offers Poland Rare Loan of $2 Billion to Modernize Its Military
My goodness – we're giving out loans everywhere! You get a loan, you get a loan, and you Hawaiins get $700…
The Biden administration announced Monday that it is offering a $2 billion loan to Poland, which has been a hub for weapons going into Ukraine, to support the ally's defense modernization.
The State Department said in a statement that Poland is a "stalwart" ally of the U.S. whose "security is vital to the collective defense" of NATO 's eastern flank, and that such funding is reserved for Washington's most important security partners.
The U.S. government is also providing Warsaw up to $60 million for the cost of the loan in Foreign Military Financing (FMF) which would support "urgent procurements of defense articles and services from the United States," the State Department said. The $60 million is a loan subsidy meant to ensure that Warsaw can secure favorable terms for the loan.
Poland has been a staunch supporter of Ukraine since Russia's full-scale invasion of the country, handing over large numbers of its own tanks, fighter jets and other equipment. It has also been a hub for most of the Western weapons going to Ukraine.
It has been undergoing a process of modernization to replace what it gave away, much of which was based on old Soviet technology, putting in orders with U.S. and South Korean defense companies.
Recently the Polish-Ukrainian relationship has seen strains due to a trade dispute centered on Ukrainian grain entering the Polish market and driving down the prices Polish farmers can get. Amid the spat Poland's Prime Minister said his country was no longer sending any more weapons to Ukraine.
The comment created some confusion. Analysts noted that Poland has already in fact given Ukraine most of what it has to give, and the statement was made ahead of a Polish election and did not mean much. But it also raised concerns that Western support for Ukraine could be weakening.
U.S. officials have sought to play down the spat, praising Poland's role in helping Ukraine and noting that it is in Poland's strategic interest for Ukraine to prevail against Russia.