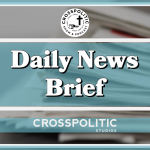 This is Garrison Hardie with your CrossPolitic Daily News Brief for Wednesday, September 28th, 2022. We're already at hump day! We've got a lot to go over today, so let's get to it. But first…
Accountable 2U
Using a smartphone or computer opens the door to a host of digital temptations. In a world saturated with pornography and other harmful content, what's a Christian to do? We need to take a proactive approach, welcoming transparency in our digital media choices—and Accountable2You makes that easy. Their accountability software shares detailed activity reports from all your devices, and your kids' devices, in real time to the accountability partners that you choose. With accountability in place, your family can effectively guard against temptations online and live with purity and integrity. Learn more and try it free at Accountable2You.com/FLF
https://reason.com/2022/09/27/biden-student-loan-forgiveness-lawsuit-pacific-legal-foundation/
'Flagrantly Illegal': Law Firm Files Lawsuit To Stop Biden's Student Loan Forgiveness
President Joe Biden's plan to forgive hundreds of billions of dollars in student loan debt violates both federal law and the Constitution, according to a just-filed lawsuit from the Pacific Legal Foundation (PLF), a libertarian law firm.
This is the first serious challenge to Biden's student loan forgiveness plan, which he announced last month. The lawsuit's plaintiff is Frank Garrison, who's also an attorney at PLF. Garrison borrowed federal student loans to pay for law school, but according to him, Biden's debt forgiveness plan will actually subject him to a financial penalty in the form of a state tax. This gives him standing to sue the U.S. Education Department, his lawsuit argues.
According to Garrison, he is already receiving debt relief under Public Service Loan Forgiveness (PSLF), a federal program for borrowers who work in public service at nonprofit organizations. Qualifying borrowers who make a certain number of payments and meet maximum income requirements can have the rest of their debts forgiven by PSLF. Garrison expects to qualify in about four years.
Importantly, debt relief under PSLF is not subject to state taxes. Biden's broad forgiveness plan, however, will be taxed as income in Indiana—where Garrison resides—as well as Wisconsin, North Carolina, Minnesota, Mississippi, and Arkansas. Garrison will be "stuck with a tax bill that makes him financially worse off than continuing with his repayment program under PSLF," according to the lawsuit. "He did not ask for cancellation, doesn't want it, and has no way to opt out of it."
While the Pacific Legal Foundation's theory is that this gives Garrison standing to sue the Education Department, the lawsuit's case against the Biden forgiveness plan is more straightforward: PLF is arguing that Biden has violated both the Constitution and the Administrative Procedure Act, which give Congress rather than the president the power to make new regulations.
Biden's new plan will forgive up to $20,000 worth of debt for many borrowers. The plan could cost U.S. taxpayers anywhere between $300 billion and a trillion dollars. A low estimate of the cost per individual taxpayer is $2,100.
The administration has claimed that it has the power to unilaterally forgive student loan debts without consulting Congress. As justification, Biden has cited 2003's Higher Education Relief Opportunities for Students, or HEROES Act. This law gave the president some authority to cancel or delay student loan repayments during national emergencies, with the clear intention of offering relief to borrowers who were serving in combat operations during the war on terror. Biden's view is that the COVID-19 pandemic counts as a national emergency, even though he has now declared it definitively "over."
PLF's lawsuit takes issue with the pandemic justification for debt relief, noting that the harms purportedly ameliorated with debt forgiveness are not a "direct result" of the "national emergency," as required by the HEROES Act.
Loan forgiveness is set to kick in sometime next month.
https://www.theepochtimes.com/officials-issue-mandatory-evacuation-orders-ahead-of-hurricane-ian_4757626.html?utm_source=partner&utm_campaign=BonginoReport
Officials Issue 'Mandatory' Evacuation Orders Ahead of Hurricane Ian
Hurricane Ian is now a major Category 3 hurricane as it lashes the western portion of Cuba, although the storm is still forecast to strengthen further before hitting western Florida as officials have implemented mandatory evacuation orders.
"This is a much different storm. [Hurricane] Charley was a lot smaller, it was powerful, it was a Category 4. Most of the damage from Charley was from wind and wind destruction," DeSantis said on Tuesday morning, referring to a 2004 Category 4 storm that hit western Florida's coast.
Hurricane Ian's sustained winds intensified to about 125 mph on Tuesday morning as it made landfall in western Cuba, according to the National Hurricane Center (NHC).
It's expected to hit near the Tampa area around 2 a.m. on Thursday morning, NHC modeling shows. When it makes landfall, Ian will be at least a Category 3 with 111 mph winds at the minimum, according to the model.
The governor and other Florida officials warned that people around Tampa should heed evacuation orders due to the significant flooding that Ian is expected to bring. Storm surge of between 5 to 10 feet is anticipated for Tampa Bay and Charlotte Harbor, said the NHC in its update Tuesday. Five to 8 feet of storm surge is also expected between the Suwannee River to Anclote (An-cloat) River areas.
"We expect to have to evacuate 300,000 people, and that will take some time," Hillsborough County Administrator Bonnie Wise told reporters. "That's why we are starting today."
https://thepostmillennial.com/shannon-brandt-man-who-ran-down-teen-for-being-a-republican-free-with-no-house-arrest-and-low-bond?utm_campaign=64487
North Dakota man who killed teen claiming he was 'Republican extremist' out on low bond, no house arrest
Shannon Brandt, the suspect who ran down 18-year-old Cayler Ellingson for being a Republican with his SUV in McHenry, North Dakota last week, is out free with no curfew and no house arrest.
According to Fox News, 41-year-old Brandt, who has been charged with vehicular homicide and leaving the scene of a deadly accident, was released after posting a $50,000 bond, something former assistant US attorney Neama Rahman called "very low" and "woefully inadequate."
A suspect can be released by posting bail, which is typically 10 percent of the required bond, meaning Brandt would be free after only providing $5,000.
The incident occurred on September 18 when the two had a political dispute after a street dance that was held at a local bar. Brandt admitted that his actions were politically motivated because the teen was part of a "Republican extremist group."
There is "no evidence" Ellingson was part of any such group according to North Dakota Highway Patrol Captain Bryan Niewind.
As part of his release, Brandt cannot leave North Dakota, cannot consume alcohol, must be in a sobriety program, cannot possess a firearm, and must not be within 300 feet of the Ellingson family.
President Joe Biden posted a video to his official Twitter telling Democrats to "fight back against extreme MAGA Republicans" days after Brandt's actions.
https://thepoliticalinsider.com/after-u-s-soldiers-were-told-to-go-on-food-stamps-congress-finds-another-12-billion-for-ukraine/
After U.S. Soldiers Were Told to Go On Food Stamps, Congress Finds Another $12 Billion for Ukraine
Congressional lawmakers agreed to a deal that would provide another $12 billion in aid to Ukraine, which would bring the total military and economic resources provided to over $66 billion.
The news follows the Senate passing a $40 billion aid package in May, along with a $14 billion package in March.
President Biden earlier this month asked Congress for an additional $11.7 billion in aid for Ukraine, with Congress, in turn, seems to be jumping at his behest.
As a reminder, also earlier this month the Army told active-duty American soldiers to go on food stamps if they were unable to afford food thanks to inflation.
Food stamps for American soldiers, endless billions for Ukraine. This is your country now.
Reuters reports that the funding agreement for Ukraine would address a variety of financial needs for Ukraine, including the hope that it would "reduce future energy costs."
Meanwhile, the White House which had been touting lower gas prices despite them being well over the national average when Biden took office, has suddenly gone quiet. Why? Because they're going back up again.
FLF Magazine:
We are on a mission to make magazines great again. So, subscribe to our Fight Laugh Feast magazine. This is a quarterly mini-book like experience, packed full of a variety of authors that includes theologically-driven cultural commentary, a Psalm of the quarter, recipes for feasting, laughter sprinkled throughout the glossy pages, and more. Sign your church up, sign your grumpy uncle up, and while you are at it…sign up the Pope, Elon Musks, and Russel Moore.
Disclaimer: This magazine will guarantee various responses and CrossPolitic is not held liable for any of them. Reading the whole magazine may cause theological maturation, possibly encourage your kids to take the Lord's Supper with you, and will likely cause you to randomly chuckle in joy at God's wondrous world. Sign up today! Four issues and $60 per year, that is it. Go to fightlaughfeast.com right now to sign up!.
https://www.boundingintosports.com/2022/09/former-washington-state-coach-nick-rolovich-has-no-regrets-not-complying-with-state-vaccine-mandate-even-after-being-fired/
Former Washington State Coach Nick Rolovich Has 'No Regrets' Not Complying With State Vaccine Mandate Even After Being Fired
Former Washington State coach Nick Rolovich revealed why he did not take the Covid vaccine last year, a decision which ultimately led to his firing after some "ugly conversations" happened between him and the college's administration.
Coach Rolovich sat down with sports reporter Allison Williams, host of the new Daily Wire exclusive series Breakaways, and spoke regarding his thoughts on the impacts of the controversial vaccine as well as how his stance as a traditional Catholic ultimately led to confrontations with other staff after he chose not to comply with the mandate.
Rolovich and four other assistant coaches were fired from Washington State in 2021 for their non-compliance with the state vaccine mandate. Because of this, Rolovich was unable to collect the estimated $9 million remaining on his contract with the school. Feeling his rights had been violated, he embarked on a $25 million wrongful termination suit against his former employers.
https://twitter.com/i/status/1574072486223699972 – Play Video
"The priest broke it down to me," said Rolovich. "Because he wanted to know why, and I said, 'This is just how I'm feeling,' and he says, 'Well, that's your conscience talking to you and the Catholic Church recognizes your conscience.' That was what was speaking to me the whole time."
However, Rolovich made it clear that his biggest regret regarding the whole situation was not making it public earlier while still an employee at Washington State that he was not going to take the shot on the grounds of religious reasons.
One tense moment came with Pat Chun, the Washington State athletic director, who laid down the potential pathways things would go down if Rolovich decided to still not comply.
"[Chun] said, 'You got four options: resign, get the vax, get a medical exemption, get religious exemption," said Rolovich.
"I'm not getting the shot. I'm not resigning. I'm not going to get a medical because I could go get a fan card, easy, but then I'd be lying… I'm going to do a religious [exemption]. And they both said 'We're not going to believe you, you know, the governor's not happy with you.'"
Rolovich did choose the religious exemption route, which was even approved by the school's Human Resources department, but Chun intervened and wrote a letter putting Rolovich's reasoning into question, going as far as to call him a science denier. Because of Chun, Rolovich's exemption was shot down.
Rolovich was not the only employee who was intentionally targeted for questioning the vaccine. David Fox, who was the school's director of football operations, had asked the school's professor of pathology and infectious diseases during a presentation made to the athletic department in a presentation regarding the vaccine, whether it had any long-term impact on women and their ability to become pregnant. This question upset Chun, who later decided he would not renew Fox's contract with the school.
Rolovich was upset with Chun's decision regarding Fox, saying "I already said to renew him, I was happy with the job he did." A verbal argument spun out when Rolovich confronted Chun, and from there everything got worse.
For now, Rolovich doesn't know whether he'll ever be able to obtain another position coaching again, but if that's the case, he's at peace with it.
"Sitting here seven months later, to me, God was right, trusting that feeling and that belief really did end up helping me out."
Last thing I'll say in this newsbrief, is this… Pat Chun? AD of WSU, you need to resign. You are a coward, who needs to be away from a leadership position over young men, and has no business being in the position that you are. Your handling over this situation is revolting, and you need to be on your knees, repenting to the Lord. Will Pat ever hear this? Probably not… but worth mentioning. By the way, if you want to call for Pat to step down, you can send him an email at Athletics.Director@wsu.edu.
This has been your CrossPolitic Daily News Brief. If you liked the show, hit that share button for me down below. If you want to come to our conference next week, if you want to sign up for a club membership, or sign up for a magazine subscription, you can do all of that at fightlaughfeast.com. As always, if you'd like to email me a news story, ask about our conference,
or become a corporate partner of CrossPolitic, email me, at garrison@fightlaughfeast.com. For CrossPolitic News, I'm Garrison Hardie. Have a great day, and Lord bless.