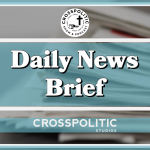 Gretta Thunburg has an amazing rebuke:
Roll Clip: https://gab.com/disclosetv/posts/107010196038125759
CWWI:
Did you know that more than 75% of those raised in evangelical, Presbyterian, and Reformed churches don't pursue any kind of Christian higher education? Surprising isn't it. Cornerstone Work & Worldview Institute is seeking to provide a new, exciting, and affordable option for Christians. Our mission is to build Kingdom culture in the workplace by equipping our students in a Trinitarian worldview and vocational competencies. Our low-cost full-time program offers integrative course modules, internships, and mentoring so our students can finish debt-free with vocational preparation, a robust faith, and financial potential to build strong godly families and homes rooted in their communities and churches long-term.
Our program is offered face-to-face in beautiful Southern Illinois or remotely, anywhere you are.
Visit our website at www.cornerstonework.org to find out more about enrolling.
Idaho State Treasurer Sounds Alarm on Biden Administration Push for Banks to Report Transactions Over $600 to IRS
https://www.bigcountrynewsconnection.com/idaho/idaho-state-treasurer-sounds-alarm-on-biden-administration-push-for-banks-to-report-transactions-over/article_0645acc8-1d3e-11ec-973f-af8093e9f8a7.html
According to Big Country News:
"Idaho's State Treasurer is sounding the alarm on a controversial move by the Biden Administration. Under the guise of closing the 'tax gap,' the Biden Administration and congressional allies are attempting to push through a new reporting requirement in which financial institutions would report customer transactions to the Internal Revenue Service.
A release from Idaho State Treasurer Julie Ellsworth's office says the proposal would "turn every American's local bank, credit union and payment provider into an IRS agent, monitoring and reporting on deposits and withdrawals made in private accounts–at a threshold of as little as $600."
Idaho State Treasurer Julie Ellsworth joined other State Treasurers, Auditors and Financial Officers in sending a letter to President Biden and U.S. Treasury Secretary Janet Yellen expressing opposition to the proposal. They wrote, "Simply put, this is a direct assault on all Americans of all economic demographics and includes all business and personal accounts."
This surveillance dragnet will capture every single American–from all income levels–with a bank, credit union, brokerage or financial account. This includes individual and business accounts, including Main Street businesses of all types, according Ellsworth. This indiscriminate data collection would subject law-abiding Americans to further IRS scrutiny and exacerbate privacy concerns. The IRS already holds troves of private data on Americans, including taxable income, charitable contributions, retirement savings, health care expenses, addresses, personal contact information and more, according to the release.
"Not only is this proposal a huge violation of privacy, it is an egregious abuse of Americans' right to due process by inferring all U.S. taxpayers are guilty of evading taxes until proven otherwise. Suppose you transfer $15,000 from your savings to your checking account to make a large purchase you have spent years saving for, like a wedding, car or home down payment. Your financial institution would be required to report the withdrawal and deposit to the IRS, possibly triggering an audit–despite having done nothing improper or illegal. Any ensuing IRS activity would presume you guilty until proven innocent," said Ellsworth."
Tucker Carlson: Is God Dead/Psalm Sing Arrest
Classy Artist Box:
"Next, I want to tell our homeschool listeners about Classy Artist Box. It is a company created by a Christian art teacher who sends you everything you need to create four art projects each month. You can use their written instructions and video lessons to help guide you through each project. In addition to the four new projects each month, you'll also have access to two and a half years worth of video lessons to enjoy as a member. Each type of subscription will cover a range of art media throughout the year, which means you have your art curricular needs covered. For 30% off of your first subscription order, use code CROSS30. To see more, check out www.ClassyArtistBox.com.
'Biden Lied': President Blasted After Top Generals Directly Contradict What Biden Said About Afghanistan
https://www.dailywire.com/news/biden-lied-president-blasted-after-top-generals-directly-contradict-what-biden-said-about-afghanistan
Remember with Resident Biden was interviewed by George Stephanopoulos's on August 19th to defend his decision to recklessly yank all our troops out of Afghanistan? Well Geroge actually pressed Biden regarding on this very point:
STEPHANOPOULOS: So no one told — your military advisors did not tell you, 'No, we should just keep 2,500 troops. It's been a stable situation for the last several years. We can do that. We can continue to do that'?
BIDEN: No. No one said that to me that I can recall. Look, George, the reason why it's been stable for a year is because the last president said, 'We're leaving. And here's the deal I wanna make with you, Taliban. We're agreeing to leave if you agree not to attack us between now and the time we leave on May the 1st.'
Well according to the Daily Wire: "on Tuesday after top U.S. military leaders, testifying in front of the Senate Armed Services Committee, directly contradicted what Biden told the American public during an interview over the summer amidst the U.S.'s withdrawal from Afghanistan."
Roll clip:
I hate to do this to you, but I to turn the News Brief COVID:
Sage Steele says she only took vaccine because of ESPN's 'sick' and 'scary' mandate
https://thehill.com/policy/healthcare/public-global-health/574306-espns-sage-steele-says-she-only-took-vaccine-because?rl=1
"ESPN anchor Sage Steele said she only got the COVID-19 vaccine because of her company's mandate, which she described as "sick" and "scary."
During an appearance on "Uncut with Jay Cutler," Steele told the former NFL quarterback that she ultimately got the vaccine so she wouldn't be removed from programming.
Steele noted that she had until the end of September to get vaccinated.
"I didn't want to do it," Steele told Cutler. "But I work for a company that mandates it, and I had until Sept. 30 to get it done, or I'm out."
Steele said while she respects people's decisions regarding the COVID-19 vaccine, it was an emotional choice for her.
"I respect everyone's decision. I really do. But to mandate it is sick, and it's scary to me in many ways," Steele told Cutler.
Steele has previously drawn criticism for mocking mask mandates. Responding to statistics showing that more children have been shot in Chicago than died of COVID-19, she wrote, "But yes — let's keep masking up our children!""
Biden says up to 98% of Americans need COVID vaccine before we can return to 'normal' life
https://www.theblaze.com/news/biden-98-percent-of-americans-need-vaccine-normal-life?utm_source=dlvr.it&utm_medium=facebook
"Long removed from the days of "two weeks to slow the spread," President Joe Biden claimed Monday that nearly every American will need to be vaccinated against COVID-19 before life can return to "normal."
In other words, the goalposts have shifted yet again.
While Biden was getting his COVID booster shot — which is recommended for the 78-year-old president — at the White House, a reporter asked him what percentage of Americans must get vaccinated before normal life returns.
Biden responded by saying as much as 98% of the country — but said it certainly can't be 75%.
"Well, look, I think we get the vast majority— like is going on in so many — some industries and some schools — 96, 97, 98%," Biden said. "I think we're getting awful close. But I'm not the scientist."
"But one thing for certain: A quarter of the country can't go unvaccinated and us not continue to have a problem," the president declared."
Closing
This is Gabriel Rench with Crosspolitic News. Support Rowdy Christian media by joining our club at fightlaughfeast.com, downloading our App, and head to our annual Fight Laugh Feast Conference next fall. With your partnership, together we will fight outdated and compromised media, engage news and politics with the gospel, and replace lies and darkness with truth and light. Go to fightlaughfeast.com to take all these actions. Have a great day. Lord bless