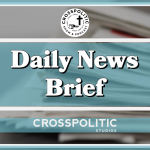 This is Garrison Hardie with your CrossPolitic Daily News Brief for Wednesday, September 6th, 2023.
PUB MEMBERSHIP PLUG:
Summer has been great here at CrossPolitic, and we want you to join us on this ride… First, we're no longer calling it the Fight Laugh Feast club… it's now called the Pub! Second, we are launching a new line of content, focused on family entertainment. We will have our new show "This America" and our exciting new "Rowdy Christian Guides" highlighting the practical guides to fun and godly life! Additionally, we will have the live streaming of our conferences, and our past conference talks, all bundled within our new polished Fight Laugh Feast App. Sign up today! Head on over to fightlaughfeast.com, and join the Pub! that's fightlaughfeast.com.
https://www.newsmax.com/newsfront/putin-turkey-grain-deal/2023/09/04/id/1133111/
Putin Won't Renew Grain Deal Until the West Meets His Demands
Russian President Vladimir Putin said Monday that a landmark deal allowing Ukraine to export grain safely through the Black Sea amid the war won't be restored until the West meets Moscow's demands on its own agricultural exports.
Ukraine and its Western allies have dismissed the Kremlin's demands as a ploy to advance its own interests.
Still, Putin's remarks dashed hopes that his talks with the Turkish President could revive an agreement seen as vital for global food supplies, especially in Africa, the Middle East and Asia.
Russia refused to extend the deal in July, complaining that a parallel agreement promising to remove obstacles to Russian exports of food and fertilizer hadn't been honored. It said restrictions on shipping and insurance hampered its agricultural trade, though it has shipped record amounts of wheat since last year.
Putin reiterated those complaints Monday, while also telling reporters that if those commitments were honored, Russia could return to the deal "within days."
The Turkish President also expressed hope that a breakthrough could come soon. He said Turkey and the U.N. — which both brokered the original deal — have put together a new package of proposals to unblock the issue.
"I believe that we will reach a solution that will meet the expectations in a short time," Erdogan said at the news conference held with Putin in the Russian resort of Sochi.
Earlier, a German Foreign Minister lashed out, saying Putin's "game with the grain agreement is cynical."
A lot is riding on the negotiation. Ukraine and Russia are major suppliers of wheat, barley, sunflower oil and other goods that developing nations rely on.
Data from the Joint Coordination Center in Istanbul, which organized shipments under the deal, show that 57% of the grain from Ukraine went to developing nations, with the top destination being China.
Grain prices shot up after Russia pulled out of the deal but have since fallen back, indicating that there isn't a big crunch in the market for the moment.
But failure to revive the agreement will have "drastic impacts" in countries such as Somalia and Egypt that rely heavily on Black Sea grain, according to Galip Dalay, an associate fellow at the Chatham House think tank in London.
Russia may be hoping it can use its power over Ukraine's Black Sea exports as a bargaining chip to reduce Western economic sanctions.
https://dailycaller.com/2023/09/04/university-michigan-students-hotel-rooms-covid-19/
Major University will Kick Students out of Dorms if they Gev Covid-19
The University of Michigan (UM) is asking students who test positive for COVID-19 to get a hotel room in order to quarantine for five days, according to the university's website.
The university reminded students on Sept. 1 of the school's rules surrounding COVID-19, suggesting if they are sick stay home, wear masks and get tested, according to the website. The university also asked students to create an "isolation plan" in case they contract COVID-19, noting that no students are allowed in the residence halls if they test positive.
"This could include relocating to your permanent residence, staying with a nearby relative or friend, or finding a hotel space. Students in Michigan Housing must leave their residence halls during isolation, even if they are in a single room," the website reads.
The UM Department of Environment, Health & Safety (EHS) is supposed to get in touch with the students within 24 hours to discuss the "care and isolation options," according to the website. If a student must pay for a hotel room, the university did not clarify on the website whether or not they will compensate the student.
https://www.cnbc.com/2023/09/05/oil-prices-mixed-on-receding-support-from-chinas-steps-to-recovery.html
Oil prices settle at 10-month high as Saudi, Russia extend supply cuts
Oil prices rose a dollar a barrel on Tuesday to their highest since November, after Saudi Arabia and Russia extended their voluntary supply cuts to the end of the year, worrying investors about potential shortages during peak winter demand.
Brent crude futures rose by $1.04, or 1.2%, to settle at $90.04 a barrel, closing above the $90 mark for the first time since November 16, 2022. U.S. West Texas Intermediate crude October futures gained $1.14, or 1.3%, to settle at $86.69 a barrel, also a 10-month high.
Investors had expected Saudi Arabia and Russia to extend voluntary cuts into October, but the three-month extension was unexpected.
Both Saudi Arabia and Russia said they would review the supply cuts monthly, and could modify them depending on market conditions.
"With the production cut extended, we anticipate a market deficit of more than 1.5 million barrels per day in 4Q23," UBS analyst Giovanni Staunovo wrote in a note to clients. UBS now expects Brent crude to rise to $95 a barrel by year-end.
Reflecting concerns about the short-term market supply, front month Brent and WTI contracts were also trading at their steepest premium since November to later-dated prices. This structure, called backwardation, indicates tightening supply for prompt deliveries.
Also supporting oil prices on Tuesday, Goldman Sachs said it now sees the probability of a U.S. recession starting in the next 12 months at 15%, down from an earlier forecast of 20%.
Along with the Saudi supply cuts, which began in July, prospects of the U.S. economy avoiding a hard recession have helped lift oil demand and prices in recent months.
Both Brent and WTI futures have gained more than 20% since the end of June.
In other news… have you guys been noticing Mcconell lately and his freezing episodes?
https://www.washingtonexaminer.com/news/senate/mcconnell-physician-says-no-evidence-seizures-stroke-second-freezing-episode
McConnell physician says 'no evidence' of seizures or stroke after second freezing episode
The attending physician of the Capitol is ruling out a seizure, stroke, or other movement disorder after Senate Minority Leader Mitch McConnell (R-KY) had difficulty speaking during a press conference in Kentucky last week.
"My examination of you following your August 30, 2023 brief episode included several medical evaluations: brain MRI imaging, EEG study and consultations with several neurologists for a comprehensive neurology assessment," Dr. Brian P. Monahan said in a new letter released by McConnell's office. "There is no evidence that you have a seizure disorder or that you experienced a stroke, TIA or movement disorder such as Parkinson's disease."
The incident occurred last Wednesday when a reporter in Covington, Kentucky, asked him about his political plans when his term is up in 2026.
At first, the Senate Republican leader acknowledged the question but trailed off and stopped speaking. An aide stepped in and asked if he had heard the question. McConnell responded "yes" but continued to freeze. This prompted the aide to say, "We're going to need a minute."
The senator appeared to regain his composure and then briefly answered two additional questions after aides stepped in to repeat questions from reporters and then led him away.
In late July, the minority leader was briefly escorted from the Senate Republicans' weekly press conference after he froze in front of the cameras, the first such public incident.
McConnell, 81, was hospitalized earlier this year after suffering a fall that required him to complete physical therapy. He experienced a concussion and a minor rib fracture that sidelined him from the Senate for nearly six weeks.
Monahan last week attributed the most recent freezing episode to dehydration and lightheadedness related to his concussion but said he was "medically clear" to continue his duties as usual.
The Republican leader's office also had attributed the two freezing moments to "lightheadedness."
McConnell was previously hospitalized in 2019 after fracturing his shoulder from a fall on his patio at home.
McConnell and the rest of the Senate returns to Washington Tuesday afternoon.