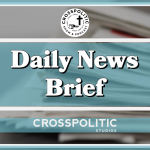 This is Garrison Hardie with your CrossPolitic Daily News Brief for Wednesday, September 7th, 2022. We're half way through the week ladies and gentleman, let's see what the news cycle has for us today… but first:
Club Membership Plug:
Let's stop and take a moment to talk about Fight Laugh Feast Club membership. By joining the Fight Laugh Feast Army, not only will you be aiding in our fight to take down secular & legacy media; but you'll also get access to content placed in our Club Portal, such as past shows, all of our conference talks, and EXCLUSIVE content for club members that you won't be able to find anywhere else. Lastly, you'll also get discounts for our conferences… so if you've got $10 bucks a month to kick over our way, you can sign up now at flfnetwork.com
https://www.foxnews.com/world/un-inspectors-find-damage-ukraines-zaporizhzhia-buildings-housing-fresh-nuclear-fuel-radioactive-waste
UN inspectors find damage to Ukraine's Zaporizhzhia buildings housing 'fresh' nuclear fuel, radioactive waste
U.N. nuclear watchdog, the International Atomic Energy Agency (IAEA), said Tuesday it found damage caused to buildings at the Zaporizhzhia nuclear power plant (ZNPP) that are housing "fresh" nuclear fuel and solid radioactive waste.
"The team closely witnessed shelling in the vicinity of the ZNPP, in particular on 3 Sept. when the team was instructed to evacuate to the ground level of the Administrative Building," a report by IAEA Director General Rafael Grossi to the United Nations Security Council said. "Moreover, the team observed damage at different locations caused by reported events with some of the damage being close to the reactor buildings."
Grossi's report Tuesday is the first update the international community has received on Europe's largest nuclear power plant since Russia invaded Ukraine in February.
The ZNPP has seen repeated damage caused by shelling that has hit the plant's power lines connecting it to Ukraine's electrical grid as well as its structural integrity.
In his report, Grossi detailed several events that have "significantly compromised" the plant's "Seven Pillars" – a standard at which the IAEA bases its security guidelines – since the ZNPP was first occupied in early March by Russian forces.
The IAEA chief laid out a litany of concerns relating to damages inflicted on the plant's electrical system, harm caused to the Central Alarm Station and damage inflicted on a container where the radiation monitoring system is located.
The IAEA report also "noted with concern that the shelling could have impacted safety related structures, systems and components, and could have caused safety significant impacts, loss of lives and personnel injuries."
Both Russia and Ukraine have accused each other of targeting the nuclear power plant, though the IAEA report did not clarify who is responsible for the attacks on the ZNPP.
https://hotair.com/jazz-shaw/2022/09/06/ho-hum-another-47b-for-ukraine-covid-whatever-n494624
Ho hum. Another $47B for Ukraine, COVID, whatever
Hey, what's a paltry fifty billion dollars between friends, right? That's roughly the amount of money that the Biden administration is asking Congress to approve in a short-term spending bill. The request is being described by the White House as "technical assistance to Congress" in the form of a continuing resolution. Biden's people would like to see this spending bill pass as a standalone measure before the debate over the big spending bill takes place. That needs to be done by September 30, barely five weeks ahead of the midterm elections. And where will this latest mountain of money be going? To Ukraine, of course. And also to fight COVID, which will apparently be an excuse that we use indefinitely from here on out. Oh, and monkeypox too, or whatever we're supposed to be calling it this week. There's also some money for natural disaster recovery in there, which should probably be handled by FEMA. (Government Executive)
While Congress and the Biden administration are still hammering out a budget deal for the upcoming fiscal year, the Biden administration is asking for a short-term funding measure with specific funding, totaling $47.1 billion, to support Ukraine, respond to the COVID-19 pandemic and monkeypox spread as well as help areas impacted by natural disasters.
The White House said on Friday that a continuing resolution will be needed as the fiscal year ends on Sept. 30, however the administration is confident Congress will come to a bipartisan agreement. If no agreement is reached by the end of the fiscal year, then a government shutdown will begin just over a month from the midterm elections.
"Today, as part of our prudent planning for the end of the fiscal year, we are providing technical assistance to Congress on a short-term CR," which "provides guidance to lawmakers on funding and legislative adjustments that are necessary to avoid disruptions to a range of important public services," wrote Shalanda Young, director of the Office of Management and Budget, in a blog post.
One part of the problem with this situation is that we have blown through so much magical money over the past couple of years, measured in the trillions and largely blamed on the pandemic, that people have likely become numb. At this point, $47.1 billion dollars probably sounds like "no big deal." Some of us are old enough to remember when a billion dollars sounded like a lot of money.
We should be asking the White House to explain precisely how much of this batch of money would be going to Ukraine. We have given more cash and other forms of aid to the Ukrainians than just about every other country combined. Where is all of this money going? How many of the weapons we have sent over there actually made it to the battlefield to fight the Russians and how many of them mysteriously disappeared? We don't know because we've never been told and nobody seems to be keeping track of any of this. Even CNN is admitting that the White House is unable to track any of this. Before the invasion began and Zelensky was turned into some sort of superhero action figure, his government was regularly being investigated for corruption and a lot of arms trafficking took place in Ukraine. Shouldn't we have a better idea of what's going on?
Some of the rest of the money is supposedly going to "fight COVID." But how long will we be footing those bills? Not that many people seem to be lining up for booster shots and our businesses and schools are allegedly almost entirely open. Is "fighting COVID" going to be the new magical phrase every time the White House wants to pluck the next fifty billion dollars from the magical money tree in the Rose Garden? The money for natural disasters seems fine, provided it goes to where it's really needed. Of course, that's a pretty big assumption these days when we can apparently spend any amount of money domestically provided you work the phrase "climate change" into the title of the bill.
https://thepostmillennial.com/breaking-project-veritas-exposes-nyc-charter-school-principal-discriminatory-hiring-practices?utm_campaign=64487
Project Veritas exposes NYC charter school principal discriminatory hiring practices
Project Veritas has exposed another teacher who engages in discriminatory hiring practices and encourages the indoctrination of students. An assistant principal in Neighborhood Charter Schools in New York City is revealed to use interview questions to weed out candidates who will not go along with his progressive agenda.
New York City Assistant Principal Exposed For Discriminatory Hiring Practices Against Conservatives
Wow… you can watch the full video on Project Veritas' youtube channel, and I even have it linked for you in the show notes. Great work from Project Veritas at exposing the truth.
https://townhall.com/tipsheet/juliorosas/2022/09/06/chicago-asking-for-donations-as-texas-sends-migrants-to-il-during-border-crisis-n2612691
Chicago Asking for Help After Texas Sends Over…100 Migrants to IL
The city of Chicago is asking for volunteers and donations for migrants who are being bused to Illinois from Texas as illegal border crossings continue to remain at an all-time high.
The Associated Press reported the plea for help from the Windy City comes as only two buses arrived from Texas, totaling around 125 people who illegally crossed the U.S.-Mexico border and were then processed and released by Border Patrol. Chicago Mayor Lori Lightfoot (D) "said the city had not yet heard from any Texas officials and urged Texas' Republican governor, Greg Abbott, to collaborate on a more humane treatment of the immigrants."
Abbott added Chicago as a destination migrants can opt to go to for free in addition to Washington, D.C. and New York City to relieve stress on Texas border towns.
Lightfoot accused Abbott of treating the migrants like cargo.
"He tries to send human beings, not cargo, not freight, but human beings across the country to an uncertain destination. He is manufacturing a human crisis and it makes no sense to me."
But according to NewsNation Ali Bradley reporter, migrants who have taken Texas buses said they felt respected throughout the process.
https://twitter.com/i/status/1566929765885419524 – Play Video
Well there you go, so all is well sanctuary cities!
Now it wouldn't be a Garrison newsbrief if we didn't talk about my favorite topic… sports!
https://nypost.com/2022/09/05/frances-tiafoe-upsets-rafael-nadal-in-us-open-fourth-round/
American Frances Tiafoe upsets Rafael Nadal in US Open fourth round
Frances Tiafoe talked a big game and delivered a bigger one.
Greatness was predicted for Tiafoe when he broke onto the scene eight years ago with his speed and power. He finally showed that skill set that had everyone agog when he was 16. And then he broke down in tears after match point when he achieved Monday's milestone.
Before the Round of 16 matchup, Tiafoe expressed confidence he could knock out Spanish legend Rafael Nadal and post the largest win of his as yet unfulfilled career.
The 24-year-old American blasted through at Arthur Ashe Stadium on Labor Day before a manic, pro-Tiafoe crowd to upset Nadal with a blistering serve and forehand to make his first Open quarterfinals.
Tiafoe, the 22nd seed, stunned No. 2 Nadal 6-4, 4-6, 6-4, 6-3. It was the first time the 36-year-old Nadal lost to an American at a major in 17 years when he was beaten by James Blake.
This has been Garrison Hardie with your CrossPolitic Daily News Brief. If you liked the show, hit that share button down below. If you want to sign up for a club membership, then sign up for our conference with that club discount, and THEN sign up for a magazine, you can do all of that at fightlaughfeast.com. And as always, if you'd like to email me a news story, ask about our conference, or become a corporate partner of CrossPolitic, email me, at garrison@fightlaughfeast.com. For CrossPolitic News… I'm Garrison Hardie. Have a great day, and Lord bless!