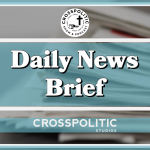 This is Garrison Hardie with your CrossPolitic Daily News Brief forThursday, June 22nd, 2023.
Gravity Jack:
Gravity Jack is a full service digital agency specializing in the development of Virtual & Augmented Reality experiences, mobile apps, blockchain and Web3 projects. Founded in 2009 as the first American agency to offer augmented reality, they even patented it; Gravity Jack's digital experiences have been a source of innovation for small business, Fortune 500 Companies, and the US Military. Get your vision in motion at gravityjack.com
https://www.independent.co.uk/news/world/americas/submarine-titantic-missing-submersible-tourists-latest-b2360568.html
Rescue hopes for missing Titanic submarine hinge on new 'banging' sounds as 12 hours left– live
There are now 12 hours of oxygen left in the missing Titan submersible as rescue efforts continue for the five passengers.
A Canadian aircraft searching for the sub in the Atlantic Ocean detected intermittent "banging" noises from the vicinity of its last known location, the US Coast Guard said.
Crew searching for the missing sub heard banging sounds every 30 minutes on Tuesday and again four hours later on Wednesday after additional sonar devices were deployed.
However, the US Coast Guard clarified that they "don't know the source of the noise".
Aboard the Titan is CEO and founder of OceanGate Expeditions Stockton Rush, British billionaire explorer Hamish Harding, renowned French diver Paul-Henri Nargeolet and Pakistani businessman Shahzada Dawood and his 19-year-old son Suleman Dawood.
Mr Dawood's sister, Sabrina Dawood told Sky News that the Dawood family is solely focused on the rescue of her brother and nephew and hope for their safe return.
The watercraft submerged on Sunday morning from its support vessel to travel to the Titanic wreckage which sits at a depth of 12,500ft. About an hour and 45 minutes later, the Titan lost contact with its surface ship, the Polar Prince.
The Titan is equipped with a four-day emergency oxygen supply.
https://notthebee.com/article/texas-christian-university-offers-queer-art-of-drag-class
Someone wanna tell me why Texas "Christian" University offers a "Queer Art of Drag" class?
Hey TCU, I think it's time for a name change.
Texas Christian University's Women and Gender Studies department offered a "Queer Art of Drag" class during the Spring 2023 semester. The course required students to give a performance as their own "drag persona."
"Drag is an art form with a rich history of challenging dominant norms and systems of oppression; building queer community; and cultivating experiences of queer joy in a hostile world," the course website rads. "Critical drag explores drag performance as an outlet for social critique, and queer world making."
The syllabus also says students must create a "drag vision board," give an "in-class lip-sync performance," and make a "storyboard" for a final performance.
A "My Drag Worksheet" assignment required students to create a name, a "drag greeting," a "lip-sync portfolio," and "strike a pose" for their drag persona.
Students were required to give their final presentation using their drag persona voice and submit a video performance for TCU's "Annual Night of Drag."
Why do I suggest TCU change its name? Hmm, let's see…
"A woman shall not wear a man's garment, nor shall a man put on a woman's cloak, for whoever does these things is an abomination to the LORD your God," Deuteronomy 22:5 (ESV).
https://notthebee.com/article/huh-math-and-reading-scores-for-13-year-old-americans-are-the-lowest-theyve-been-in-decades-and-tanked-during-the-pandemic
Math and reading scores for 13-year-old Americans are the lowest they've been in decades and tanked during the pandemic
Remember how we shut down all the schools for a virus that didn't put most children in danger?
The math and reading performance of 13-year-olds in the United States has hit the lowest level in decades, according to test scores released today from the National Assessment of Educational Progress, the gold-standard federal exam.
The last time math performance was this low for 13-year-olds was in 1990. In reading, 2004.
Maybe we should have been listening to the experts who predicted "brain drain" and developmental consequences that would set America, and the world at large, back decades in education by shutting down schools for two years.
A large body of research shows that most American children experienced academic struggles during the pandemic. It has also been clear that low-income students of color were most heavily affected by school closures and remote learning, which in some districts lasted more than a year.
I heard many experts discussing this from 2020-2022, but most people probably didn't, because the Experts™ censored their peers from warning us. And yet the truth remains that some people did actually warn us that closing schools wasn't merely a 2-year setback, but a decision that would affect multiple generations to come.
The 13-year-olds who took this version of the NAEP exam last fall were 10 years old — and in fourth or fifth grade — when the pandemic began. Many were old enough to participate in remote learning without minute-to-minute adult assistance, as younger children often needed.
But the ages of 10 to 13 are also a crucial period for mastering foundational skills, from multiplication to recognizing a character's feelings in a short narrative passage.
"The bottom line — these results show that there are troubling gaps in the basic skills of these students," said Peggy Carr, commissioner of the National Center for Education Statistics, which gives the NAEP exam. "This is a huge-scale challenge that faces the nation."
But it's okay, because proficiency is racist anyway. Civilization might not work without competent, educated people, but we'll feel nice when we're all equal in squalor. We can be the "quit" in equity!
The percentage of 13-year-olds who reported reading for fun has also declined. Last fall, 31 percent said they "never or hardly ever" read for fun, compared to 22 percent in 2012.
Have you looked at the woke books they give these kids? No wonder it's not fun!
Anyway, we might not have to wait long for the end to come, because while we talk about race and gender instead of teaching math, other countries like China are preparing their kids for engineering and war…
https://www.theepochtimes.com/proposed-hate-speech-law-in-michigan-threatens-first-amendment-rights-conservatives-warn_5329978.html?utm_source=partner&utm_campaign=travis_in_flint&src_src=partner&src_cmp=travis_in_flint
Proposed 'Hate Speech' Law in Michigan Threatens First Amendment Rights, Conservatives Warn
A bill moving through the Democrat-controlled Michigan State Legislature would make it easier for prosecutors to bring felonious "hate crime" charges against dissident speech.
The possible implications for preachers, school administrators, teachers, parents, politicians, and citizen activists have alarmed conservatives concerned about the effect the bill may have on free speech.
The proposed legislation, HB 4474, would amend the state's Ethnic Intimidation Act of 1988 in order to consider it a hate crime if a person is accused of causing "severe mental anguish" to another individual by means of perceived verbal intimidation or harassment.
The amendment defines the words intimidate or harass as a "willful course of conduct, involving repeated or continuing harassment of another individual that would cause a reasonable individual to feel terrorized, frightened, intimidated, threatened, harassed, or molested…"
"Words are malleable," Attorney David Kallman of the Great Lakes Justice Center (GLJC), a non-profit legal organization dedicated to preserving liberty in America, told The Epoch Times. "They can be redefined by whoever is in power.
"Under the proposed statute, 'intimidate and harass' can mean whatever the victim, or the authorities, want them to mean. The focus is on how the victim feels rather than on a clearly defined criminal act. This is a ridiculously vague and subjective standard," he said.
"The absence of intent makes no difference under this law. You are still guilty of the crime because the victim felt uncomfortable.
"The bill will lead to the prosecution of conservatives, pastors, and parents attending a school board meeting for simply expressing their opposition to the liberal agenda," Kallman said.
A convicted violator could receive a fine of up to $10,000, up to five years in prison, or both.
The bill does provide the court with the option of an alternative sentence.
The text reads in part, "An alternative sentence may include an order requiring the offender to complete a period of community service intended to enhance the offender's understanding of the impact of the offense upon the victim and wider community.
Michigan Attorney General Dana Nessel, a Democrat, testified that Michigan has the fifth-highest number of hate crimes committed per capita in the United States, with many more incidents not reported.
She stated that HB 4474, and similar early judicial intervention measures, can help prevent initial non-violent hate crimes from escalating into murder.
"You can literally save lives," Nessel, a lesbian, told the committee.
Wayne County Prosecuting Attorney Kim Worthy, a Democrat, called the existing Ethnic Intimidation Law "woefully inadequate."
She testified that HB 4474 was a "useful tool" that would make it "easier to prosecute real hate crimes" and send a message that they are "absolutely intolerable in this state."
"We have to protect our victims of hate crimes," Worthy said.
https://www.dailywire.com/news/top-disney-diversity-equity-and-inclusion-officer-leaving-the-company?utm_source=facebook&utm_medium=social&utm_campaign=dwbrand
Top Disney Diversity, Equity, And Inclusion Officer Leaving The Company
Disney's top Diversity, Equity, and Inclusion (DEI) officer will be leaving the entertainment giant to "pursue other endeavors" as the company continues to face headwinds from conservative customers over its promotion of LGBT themes and battles with Florida Republicans, according to a memo obtained by Variety.
An internal memo sent to employees this week announced that Latondra Newton, the company's chief DEI officer and senior vice president, would be moving on from the company, Variety reported Tuesday. Newton will reportedly be moving to a board at a different corporation after six years at Disney.
"I'm writing to share the news that Latondra Newton has decided to leave The Walt Disney Company to pursue other endeavors," the internal memo obtained by Variety read. "Working alongside all of you and so many others, she has inspired countless cast members and employees to bring about lasting change and to help create a world where we can all feel safe and we all belong."
Julie Merges, currently a human resources executive at the company, will be the interim top DEI officer while a hiring search is conducted.
At Disney, Newton worked "with various business segments and leaders across the enterprise to build on Disney's commitment to produce entertainment that reflects a global audience and sustains a welcoming and inclusive workplace for everyone," according to the company.
Newton signed on to a letter from top Disney executives taking aim at "racial disparities" following the death of George Floyd in Minneapolis resolving to pursue "real change."
Under Newton, Disney also began its "Reimagine Tomorrow" program which focused on "representation" for a host of different groups including increasing "gender diversity," "Black Representation," "Female empowerment," "Diverse Families," "LGBTQIA+ Representation," and "Middle Eastern Representation."
In recent years, Disney has come under fire from some customers over its insertion of LGBT themes into children's content, including the inclusion of a gay kiss into the 2022 "Lightyear" film which flopped at the box office. The company also voiced opposition to a Florida law intended to shield kids from being taught gender ideology and sexual topics in the classroom.
The company has also faced backlash online after video emerged of a man in a dress welcoming small children into a Disneyland boutique full of princess costumes.