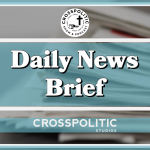 This is Garrison Hardie with your CrossPolitic Daily News Brief forTuesday, September 26th, , 2023.
Samaritan Ministries
Tired of someone else telling you where to go when you have a medical need? Are you ready to take control of your health care? Then it's time to take a look at Samaritan Ministries. It's Biblical, affordable health care sharing, with no restrictive networks. Here's how it works. When a medical need arises, you choose the health care provider that's right for you, and have a say in the treatment you receive. Send your medical bills to Samaritan Ministries, and they'll notify fellow members to pray for you and send money directly to you to help you pay those bills. Join 80,000 Christian households across the nation who have already taken control of their health care. Go to samaritan ministries dot org slash cross politic.
https://thepostmillennial.com/biden-admin-moves-to-give-federal-ids-to-illegal-immigrants?utm_campaign=64487
Biden admin moves to give federal IDs to illegal immigrants
The Biden administration is moving forward with its plan to provide identification cards to illegal immigrants via Immigration and Customs Enforcement. The agency announced the ICE Secure Docket Card program in 2022, however new details recently emerged revealing how the cards will look.
In appearance, they looks like drivers licenses or non-driver IDs. ICE has stressed, however, that they "will not be an official form of federal identification," simply acting as a more modern alternative to the paper documents issued to those who make the crossing into the United States. Many Democrat-run cities have also offered ID cards to illegal immigrants, and some cities have even tried to push through the ability for illegal immigrants to vote.
Images obtained by Fox News show that the cards will be clearly marked with ICE logos, and include all the relevant information about the holder. In the top right corner there will be a QR code, which officials can scan to gain access to a case file. The cards will also include bigraphic data, and be fitted with "cutting edge" security features.
"The ICE secure docket card concept is a pilot program that would modernize documentation provided to some noncitizens," an ICE spokesperson told the outlet. "While the specifics of the program are under development, it is important to note the secure card will not be an official form of federal identification. The secure card will indicate it is for use by DHS agencies and would be provided only after national security background checks have been performed."
ICE claimed that "moving to a secure card will save the agency millions, free up resources, and ensure information is quickly accessible to DHS officials while reducing the agency's FOIA backlog."
"Paper documents," the spokesperson added, "pose a security risk, are easily lost, and degrade rapidly in real-world use, creating inefficiencies for the government and noncitizens."
Not everyone is thrilled at the prospect of issuing ID cards to those who entered the country illegally. When the plan was introduced last year, for example, members of the House Oversight Committee said it was "yet another Biden Administration move encouraging illegal immigration by rewarding illegal immigrants for breaking our laws."
https://www.dailyfetched.com/far-left-group-takes-credit-for-demonetizing-russell-brand/
Far-Left Group Takes Credit for Demonetizing Russell Brand
Not long after major advertisers, including Burger King and HelloFresh, pulled the plug on Rumble following the sexual assault against comedian Russell Brand, a far-left group took credit for the ad rug pull.
As reported last week, the brands pulled their adverts from the platform, where Brand has amassed a following of 1.4m.
News Movement reported that Burger King paused advertising with the platform, while Asos said it had manually removed its ads from Rumble.
Meanwhile, video-sharing giant YouTube also demonetized Russell Brand's videos on his channel following sexual assault allegations against the comedian.
"We have suspended monetization on Russell Brand's channel for violating our creator responsibility policy," the platform announced Tuesday.
Brand is accused of rape, sexual abuse, and emotional abuse from 2006 to 2013, according to The Times.
However, the comedian has not been charged with any crimes or found guilty.
Brand has now become a left's enemy, and he is about to witness for himself the lengths they will go to in order to destroy someone's life if they don't toe the line.
Over the weekend, far-left radicals Nandini Jammi and her business partner Claire Atkin took the credit for Rumble's advertisers dropping Brand.
Jammi is a co-founder of far-left company Sleeping Giants, makes her money by attacking any companies that advertise on conservative platforms, like what has happened with Russell Brand.
The Guardian reported:
A number of large companies have pulled their advertisements from the video platform Rumble, where Russell Brand broadcasts his weekly show, in the week since allegations of rape and sexual assault against the comedian came to light.
The News Movement reported on Friday that Burger King, Asos, the Barbican, and HelloFresh, the recipe box delivery service, had removed their ads. The Brand has 1.4m followers on the platform. YouTube suspended Brand's ability to earn money on its platform on Tuesday, but Rumble has rejected calls to do the same. On Friday, Brand said the moves to block him from receiving advertising revenue for his videos on social media platforms have occurred "in the context of the online safety bill."
On Thursday, Rumble accused a parliamentary committee of "deeply inappropriate" behavior after Caroline Dinenage, the Conservative chair of the culture, media, and sport committee, wrote a letter to the company's chief executive, Chris Pavlovski, to express concern that Brand "may be able to profit from his content on the platform."
Last week, the UK parliament asked Rumble why they have not demonetized the comedian's channel.
https://twitter.com/i/status/1704092016764670139 – Play Video
British Member of Parliament, Dame Caroline Dinenage, wrote to Rumble CEO Chris Pavlovski asking whether he would suspend monetization of Brand's account, noting that Brand had posted his pre-emptive message regarding the allegations.
https://www.breitbart.com/news/hollywood-writers-studios-reach-tentative-deal-to-end-strike/
Hollywood writers, studios reach tentative deal to end strike
Striking writers whose industrial action has paralyzed Hollywood said Sunday they had reached an "exceptional" deal with studios that could see them go back to work.
The apparent breakthrough will raise hopes that striking actors can also reach terms with studios to end a months-long impasse that has seen film and TV production largely halted, costing the California economy billions of dollars.
"We have reached a tentative agreement on a new 2023 (minimum basic agreement), which is to say an agreement in principle on all deal points, subject to drafting final contract language," said a letter the Writers Guild of America sent to members.
"We can say, with great pride, that this deal is exceptional — with meaningful gains and protections for writers in every sector of the membership."
The letter, which AFP has seen, gave no details. It said language was being ironed out and that the final say on whether to accept what was on offer rested with the membership.
"To be clear, no one is to return to work until specifically authorized to by the Guild. We are still on strike until then. But we are, as of today, suspending WGA picketing," it said.
A terse joint statement from the WGA and the AMPTPT, the umbrella group representing studios and streamers confirmed an agreement.
Thousands of film and television scribes downed their pens in early May over demands including better pay for writers, greater rewards for creating hit shows, and protection from artificial intelligence.
They have manned picket lines for months outside offices including Netflix and Disney, and were joined by striking actors in mid-July, leaving normally busy Hollywood lots all but vacant, in an ebullient and united show of force.
Actors' union SAG-AFTRA congratulated the WGA, praising the "incredible strength, resiliency and solidarity on the picket lines."
"While we look forward to reviewing the WGA and AMPTP's tentative agreement, we remain committed to achieving the necessary terms for our members," it said.
Negotiations between studios and writers had been moribund for weeks until a new sense of urgency appeared to have been injected into the process in the last few days, with the heads of Netflix, Disney, Universal and Warner Bros Discovery personally attending the talks.
Among their demands, writers say their salaries have not kept up with inflation, and that the rise of streaming has diminished the "residuals" they earn when a show they work on becomes a smash hit.
Studios had offered greater transparency in streaming audience numbers, while stopping short of offering to revise the way residual payments are calculated.
Writers have also demanded curbs on the use of AI, which they fear could be used to partially replace them in generating future films or show scripts, and therefore further undercut their pay.
$5 billion
The Financial Times reported Milken Institute research at the start of September that put the cost of the current Hollywood standstill at $5 billion.
At 146 days, the WGA strike is significantly longer than the writers' 2007-08 walkout — which lasted 100 days and cost the California economy $2.1 billion.
Even if the writers deal is finalized, the actors' strike would continue.
There have been no known contract talks between the studios and the actors' 160,000-strong SAG-AFTRA guild since that strike began.
But the two unions share many similar demands, and insiders say that a WGA deal could help to pave the way for a resolution to the actors' strike.
"We remain on strike in our TV/Theatrical contract and continue to urge the studio and streamer CEOs and the AMPTP to return to the table and make the fair deal that our members deserve and demand," SAG-AFTRA said.