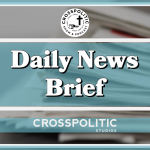 This is Garrison Hardie with your CrossPolitic Daily News Brief forWednesday, August 16th, 2023.
Samaritan Ministries
How are you paying for your health care, and how's it working out? If it's working perfectly,
great! If not, then listen closely, because I have a solution for you. A Biblical solution.
Samaritan Ministries is a community of Christians who pay one another's medical bills. Here's
how it works. When a medical need arises, you choose the provider that's right for you, and
have a say in the treatment you receive, even if it's a non-conventional approach. Your medical
bills are shared with fellow members, and your need is covered in prayer.
It's affordable, and you can join anytime, even today. Learn more at samaritan ministries dot
org slash cross politic.
https://www.theepochtimes.com/us/here-is-when-trump-has-to-surrender-in-georgia-case-5466434?utm_source=partner&utm_campaign=BonginoReport
Trump Ordered to Surrender by August 25 in Georgia Case, Will Have Mugshot Taken
Fulton County District Attorney Fani Willis gave President Donald Trump and the 18 other defendants who were charged Monday until noon on Aug. 25 to surrender.
Ms. Willis announced the surrender date in a press conference on Monday evening after a Fulton County, Georgia, grand jury handed down charges against the President. Meanwhile, the district attorney said that a trial would likely take place within the next six months, which would occur in the midst of GOP primary elections.
"Trump and the other Defendants charged in this Indictment refused to accept that Trump lost, and they knowingly and willfully joined a conspiracy to unlawfully change the outcome of the election in favor of Trump. That conspiracy contained a common plan and purpose to commit two or more acts of racketeering activity in Fulton County, Georgia, elsewhere in the State of Georgia, and in other states," the indictment says.
Under the indictment, President Trump and the other defendants are each charged with one count of violating Georgia's Racketeer Influenced and Corrupt Organizations (RICO) Act and allegedly engaged in "criminal enterprise in Fulton County, Georgia—and elsewhere—to accomplish the illegal goal" of keeping the President in office.
The 18 other individuals listed in the indictment include Rudy Guiliani, John Eastman, Mark Meadows, Kenneth Chesebro, Jeffrey Clark, Jenna Ellis, Ray Stallings Smith III, Robert Cheeley, Michael Roman, David Shafer, Shawn Micah Tresher Still, Stephen Cliffgard Lee, Harrison William Prescott Floyd, Trvian C. Kutti, Sidney Powell, Cathy Latham, Scott Hall, and Misty Hampton.
Ms. Willis, in the conference, claimed that the charges against President Trump and the others were not politically motivated. "I make decisions in this office based on the facts in the law," she said. "The law is completely nonpartisan. That's how decisions are made in every case to date."
However, a statement from the Trump campaign said otherwise, accusing the district attorney of having a partisan animus against him. That statement, meanwhile, accused Ms. Willis of engaging in election interference.
It's the fourth time the President has been indicted this year. He's the first President in American history to be indicted on criminal charges.
He faces a New York state trial in March 2024 involving a hush money payment, and a federal trial beginning in May in Florida for allegedly mishandling federal classified documents. In both cases, Trump pleaded not guilty.
A third indictment, in Washington federal court, accuses him of illegally seeking to overturn his 2020 election defeat. President Trump denies wrongdoing in this case as well, and a trial date has yet to be set.
So what's next?
After defendants in Georgia are indicted by a grand jury, they are arraigned, which is the formal reading in court of the charges. Defendants are also asked to enter a plea. President Trump's attorney could ask the court to waive the arraignment, and he could enter a plea of not guilty without appearing in court.
Bail also will be determined. He likely will be released, probably in exchange for a promise to return to face the charges at trial. The President will have his mugshot taken upon being taken into custody, Fulton County Sheriff Pat Labat told local media this month.
He may try to move it to another part of the state, arguing the jury pool in Fulton County, which President Joe Biden won with about 73 percent of the vote, would be biased against him.
The process of selecting a jury could be lengthy, given the passionate views many people have of the President and the amount of time jurors would have to dedicate to the trial. In the ongoing trial in Atlanta of rapper Young Thug, or Jeffery Lamar Williams, jury selection ran for months.
Checking back in on Hawaii now…
https://nypost.com/2023/08/14/maui-residents-claim-people-being-looted-robbed-at-gunpoint/
'Utter chaos': Maui residents say they are being looted, 'robbed at gunpoint'
Some Maui residents say they have been looted and robbed at gunpoint while catastrophic wildfires rage on the island — leaving them begging for a greater response from authorities as thieves make off with vital supplies.
As rescue crews work to deliver necessities such as water, food, and first aid to those in need, locals say some residents have grown so desperate waiting for help that they've resorted to stealing.
West Maui residents blame the robberies in Lahaina on the fact that they feel abandoned without supplies or answers.
Jeremy Aganos, who owns the restaurant Coconut Caboose — one of the few buildings that survived the fires on Front Street in Lahaina — told KITV it was "utter chaos" for people trying to find food, water and shelter.
An Oregon resident told the outlet that their relative flew into Maui to donate water, food, household items and clothing — only to be robbed at gunpoint soon after his arrival.
The startling uptick in crime has left residents slamming local leadership for its inaction in the wake of the catastrophic fires, which have become the deadliest in the US in more than a century as nearly 100 people have been reported dead so far.
"There's some police presence. There's some small military presence. But at night, people are being robbed at gunpoint," Matt Robb, co-owner of a bar in Lahaina called the Dirty Monkey, told Insider.
A mobile refrigerated morgue was rushed to Lahaina on Monday to keep bodies cool as the death toll on Maui hit 96 — and is only expected to rise.
Two fires have not yet been completely contained, including the one that reduced Lahaina's neighborhoods to heaps of ash and debris, according to an update from Maui County.
Only 3% of Lahaina — previously a town of 13,000 — had been searched.
Maui Police Chief John Pelletier said the fire had been so significant that each recovered body will have to be identified through DNA testing.
Hawaii officials are urging tourists to avoid traveling to Maui as many hotels are prepared to house evacuees and first responders.
https://thepostmillennial.com/hawaii-governor-says-state-is-looking-to-acquire-land-that-was-destroyed-in-fires?utm_campaign=64487
Hawaii governor says state is looking to 'acquire land' that was destroyed in fires
On Monday, Hawaiian governor Josh Green announced that his administration was considering acquiring properties in the seaside resort town of Lahaina that had been destroyed by the recent wildfires.
He vowed to prevent foreign buyers from swooping in to exploit the tragedy, suggesting the state was better suited to take control of the land.
"I'm already thinking of ways for the state to acquire that land so that we can put it into workforce housing, to put it back into families, or make it open spaces in perpetuity as a memorial to the people who were lost," Green said while standing amongst the rubble.
In a separate press conference, Green reiterated his committment to ensure the land was protected for residents, and revealed that he had spoken with the Hawaiian attorney general regarding "options to do a moratorium on any sales of properties that have been damaged or destroyed."
According to the Honolulu Civil Beat, over 2,000 structures were destroyed in the fire, three quarters of which were residential.
From Hawaii to Chicago we go…
https://www.breitbart.com/2nd-amendment/2023/08/14/chicago-group-asks-gang-members-not-shoot-people-between-9-00-a-m-9-00-p-m/
Chicago Group Asks Gang Members Not to Shoot People Between 9:00 a.m. and 9:00 p.m.
Native Sons, a group from Chicago's Rogers Park neighborhood, is asking that gang members pledge to cease fire from 9:00 a.m. to 9:00 p.m. daily so no one lives in fear of being shot while going about their day-to-day activities.
The push for the cease-fire is being called "The People's Ordinance," CWBChicago reported.
Native Sons' co-founder, Tatiana Atkins, said:
Under this ordinance, we ask that people stop associating with and glorifying 'shooters,' stop glorifying 'switches,' and stop wearing those ski masks everywhere which perpetuates you as some 'opp.' When those who live a certain lifestyle try to hang with 'regular' class citizens, they put everyone at risk.
At the end of the day, five-year-olds are being killed by gun violence, 14-year-olds are being killed by gun violence, 78-year-olds are being killed by gun violence, pregnant women are being killed by gun violence, young boys with bright futures are being killed by gun violence, fathers are being killed by gun violence, and this shouldn't be happening.
Atkins hopes that gang members will adopt the cease-fire and that parents will react by making sure they have their children home and inside as 9:00 p.m. approaches.
Breitbart News reported at least 23 people were shot over the weekend in Chicago, three of them fatally.
Over 370 people have been killed in Chicago thus far in 2023.
Now in entertainment news…
Sound of Freedom director teases sequel focusing on Haiti
During a recent interview with Variety, the writer and director of widely acclaimed independent film Sound of Freedom revealed that a sequel might be in the works.
Alejandro Monteverde told the magazine that he has been in discussions about writing a sequel to the smash hit film, which would be focused on child sex trafficking in Haiti.
"There's definitely a lot of interest to exploring [the subject] a little deeper, because this is just the tip of the iceberg. There's a lot of interest to kind of explore Haiti, what's happening in Haiti. There's [sequel] talks focusing on Haiti," Monteverde said.
The Sound of Freedom became the highest-grossing independent film since 2019 following its initial release in July, earning more than $173 million. The film tells the story of a former government agent, Tim Ballard, who started an organization to fight child sex trafficking in Colombia. It stars Jim Caviezel, who plays Ballard as he embarks on a mission to rescue children who have arguably been subjected to the worst of crimes.
The film has been dismissed by mainstream media and other left-wing critics as a "conspiracy," however; the Sound of Freedom is based on a true story about Ballard's organization, Operation Underground Railroad, and a real mission where his team saved 55 children and 123 people in total.
Monteverde dispelled misconceptions about the film to Variety and criticized mainstream media for avoiding the film, suspecting that they have done so on purpose.
"The origin [of the film] has been avoided, purposely or accidentally, in the media," Monteverde said. "The origin will answer a lot of these misconceptions on the film."
The film writer explained that he got the idea for the movie after watching a news segment about child sex trafficking, saying that what he learned "shook my soul because I didn't really believe it [existed]."
"I just, in my head, could not put those two pieces together — an adult and a child," he told Variety.
Feeling the need to take action against this atrocity, Monteverde began to write a fictional screenplay called "The Mogul." When the film's producer, Eduardo, had met Tim Ballard, the two decided to change the direction of the film and base it on the true story of Ballard's time working as a former special agent for the Department of Homeland Security, in which he has deployed as an undercover operative for the US Child Sex Tourism Jump Team, Variety reports.
Monteverde told the reporter that the film had been finished years before QAnon conspiracy theorists sprung into the spotlight.
"All I wanted was to present a question about the problem: human trafficking, child trafficking, child sexual exploitation. How bad the problem is. We shot in 2018. In 2019, it was a completely finished film [before QAnon became a phenomenon]," he said.
The director said the negative press surrounding the film was "heartbreaking."
On why the sequel would be focused on Haiti, Monteverde said, "Haiti was a big part of Tim's work. I was very tempted to do Haiti on this film. But I wanted to do an origin story, and it was too much material. I needed to end where I ended."
Now it's time for my favorite topic… sports!
https://nypost.com/2023/08/14/native-americans-calls-for-commanders-name-change-to-redskins/
Native American group demands Commanders reinstate 'Redskins' name
The name of the football team playing in Washington D.C. is once again under question.
A group called the Native American Guardian's Association (NAGA) is demanding the Washington Commanders change their name back to the Redskins, organizing support for the name reversal with a petition that has gained more than 90,000 signatures.
"We invite all Americans to stand up for the dignity of EVERY AMERICAN under assault in today's increasingly nonsensical culture wars," the petition says.
"This 'LINE IN THE SAND' moment reinforces undeniable history of the NATIVE AMERICAN assisting the FOUNDING OF AMERICA, with NATIVE AMERICAN principles used by the FOUNDING FATHERS in the US Constitution – and, EVERY AMERICAN's right to the 1st and 14th Amendment and not to be targets of cancel culture or ESG.
"This is not a simple left or right issue for Americans; it reaches across the political spectrum dating back to our Founding Fathers."
The letter was addressed to the Commanders' leadership group, including new owners Josh Harris and Magic Johnson as well as head coach Ron Rivera.
"As the NFL franchise representing the nation's capital, you have a distinct opportunity to recognize the history and value of the American Indian," the letter continues.
NAGA, which is led by a board of Native Americans, is a "non-profit organization advocating for increased education about Native Americans, especially in public educational institutions, and greater recognition of Native American Heritage through the high profile venues of sports and other public platforms," according to its website.
Disgraced former team owner Dan Snyder changed the organization's name in 2020 after years of pressure, beginning the 2020 and 2021 seasons with the name "Washington Football Team" before opting for the Commanders moniker prior to the 2022 season.
According to ESPN, the team could be looking to change its name again following its sale to the ownership group led by Harris, largely in an effort to distance themselves from Synder's disastrous tenure.