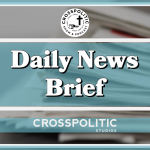 This is CrossPolitic Daily News for Wednesday, April 21th, 2021. 
And if you or your business would like to advertise with CrossPolitic, send inquiries to [email protected] .
8 Days to the Rally in Rapid City, South Dakota: April 29, 30, May 1? Excited to see and meet many of you as we learn to Love God, Sing Psalms, Defy Tyrants. Kick off the conference with beer and Psalms, and end the conference with a sabbath dinner and comedian John Branyan! FLFNetwork.com/Rally
If you can't make it, join the club and we will live stream all the talks to our club members!
Folks, I got something very exciting to bring to your attention. In the coming couple of months, we are going to be rolling out Fight Laugh Feast Canada. Over the years, and more recently with the COVID silliness, we have built friendships with a number of like-minded pastors and churches in Canada. So, it made sense to lock arms and build-out Fight Laugh Feast Canada, and we can't wait to expand the Fight Laugh Feast mission beyond how God has blessed it here in the states. So, be on the lookout, as we will be announcing shows and websites in the coming months.
As Pastor Toby reported on yesterday, Representative Maxine Waters flew into Minneapolis this past week and was interviewed by the media on the ground. And in her interview, she basically incited violence telling the people that if the Chauvin trail does not go their way, they need to get more "confrontational" in the streets. Well on Tuesday, the republicans put forth a resolution to censure Rep Waters, and what do you know, the democrats voted it down.
Chauvin Guilty Verdict
Play Video
The officer of the year award (This apparently happened sometime last summer):
PLUG: Have you always wanted to play guitar but thought it was too late to start? Maybe you are in a season of your life where taking in-person lessons wouldn't fit your schedule.  For less than the cost of 1 private lesson a month, you could be a part of the community of guitarists at GuitarSuccess4U and learn guitar at your own pace, from the comfort of home.  Through video lessons, worksheets, expert interviews, and a proven path to success, fellow Cross Politic listener David Harsh will share with you some of the most relevant tools from his almost 30 years of teaching, touring, writing and leading worship on guitar, to help you become the musician you were made to be.  Learn more and join now at www.GuitarSuccess4U.com.  That's Guitar Success, the number "4" and the letter "U," dot com.  What are you waiting for?
Facebook plans to go after Clubhouse — and podcasts — with a suite of new audio products
https://www.vox.com/recode/2021/4/18/22390742/facebook-podcasts-clubhouse-audio-launch-spotify-zuckerberg-apple
Facebook wants you to start talking, and listening, on Facebook.
Sources say the social network is planning to announce a series of products — some of which won't appear for some time — under the umbrella of "social audio" on Monday. They include Facebook's take on Clubhouse, the audio-only social network that grew rapidly last year, as well as a push into podcast discovery and distribution, aided by Spotify.
Facebook's audio plans include:
An audio-only version of Rooms, a videoconferencing product it launched a year ago when the pandemic spurred massive adoption of Zoom
A Clubhouse-like product that will let groups of people listen to and interact with speakers on a virtual "stage"
A product that will let Facebook users record brief voice messages and post them in their News Feeds, like they currently can do with text, pictures, and videos
A podcast discovery product that will be connected with Spotify, which has invested heavily in podcasting over the past couple of years. It's unclear to me if Facebook intends to do more beyond flagging podcasts for its users and sending them to Spotify. (Worth noting: Spotify and Facebook first linked up 10 years ago when Facebook was pushing the idea of "frictionless sharing," which was supposed to mean that your Facebook friends could see what you were reading, listening to, or watching. That fizzled out pretty fast.)
Church elders under fire for threatening to expel mom who left husband, started dating woman
https://www.christianpost.com/news/church-under-fire-for-threatening-to-expel-mom-relationships-woman.html
The elders at Woodstock Church of Christ in Georgia are in the hot seat for following the bible. What you say? Well they sent a letter to one of their congregants, Krystal Cox, who divorced her husband and then gets into a relationship with a women (aka homosexual relationship, aka an abomintion. Well this past Sunday, Krystal posted a letter from the elders (dated April 1st) on the internet stating their intention to basically excommunicate her because "no one can be involved in homosexuality and be in a pleasing relationship with God".
Since she did not respond to that letter, the elders sent a followup letter that read:
"If we fail to hear from you by April 30, 2021, we would understand you are not repentant and do not desire to be forgiven of your sinful behavior. That being the case, an announcement to that effect will be made to the Woodstock Church of Christ on the following Sunday. We will announce that we have withdrawn fellowship from you following efforts to establish a dialogue to persuade you to repent. Your name will be removed from our membership role [sic] until you decide to make your life right with the Lord."
Cox, a longtime hairstylist who owns the Hair Bar Salon in Woodstock, told CBS 46 that she was "enraged" after reading the letter from the elders.
"Well, when I opened it, I was kind of enraged. Like, why am I getting picked on and getting called out when everyone has sin?" she asked.
"The fact that they're going to point it out and release my personal business to the entire congregation of the church and tell them that I can no longer come there, I just don't feel like that's right," Cox added.
"I feel like it's not wrong. I look at my relationship and how much love I have with her and think, how can people think this is so wrong?"
Cox, who previously celebrated her relationship with her now ex-husband online, now celebrates her relationship with her girlfriend.
She insists that she does not want her former congregation to be attacked for their beliefs.
"I just really don't want anything bad to come out of this," she said. "Like I want it to be good. I don't want people to be saying ugly things to them and sending them ugly stuff. I just don't want that. That was not my intent."
Share Plug
People ask us all the time, what is the best way to support CrossPolitic. Well besides a large endowment, the best way is to subscribe to our Fight Laugh Feast Club membership. $10, $25, $50, or $100 per month really goes a long way as our goal is to take down mainstream media and present the truth and reality of the gospel of our Lord Jesus Christ colliding with politics and culture. So, get behind Christian media and join our club.
Closing
This is Gabriel Rench with Crosspolitic News. Support Rowdy Christian media by joining our club at FightLaughFeast.com, downloading our App, and head to our annual Fight Laugh Feast Conference next fall. With your partnership, together we will fight outdated and compromised media, engage news and politics with the gospel, and replace lies and darkness with truth and light. Go to fightlaughfeast.com to take all these actions. Have a great day. Lord bless