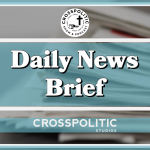 This is CrossPolitic Daily News for Wednesday April 7th, 2021.
And if you or your business would like to advertise with CrossPolitic, send inquiries to Ads@FightLaughFeast.com .
Plug
Have you registered for the Fight Laugh Feast Rally in Rapid City, South Dakota, April 29, 30, May 1? Excited to see many of you as we learn to Love God, Sing Psalms, Defy Tyrants. Come hear talks from Pastor Doug Wilson, Ben Merkle, Steve Deace, Sheriff Daryl Wheeler from Bonner County, Idaho, myself – Pastor Joe Boot, and now the very latest: Mr. Nate "N.D." Wilson. Gather with likeminded Christians who love freedom, confess Jesus Christ is Lord over all, and be equipped to stand firm in these insane days. Go to FLFNetwork.com/Rally and register today. 
Folks, I got something very exciting to bring to your attention. In the coming couple of months, we are going to be rolling out Fight Laugh Feast Canada. Over the years, and more recently with the COVID silliness, we have built friendships with a number of like-minded pastors and churches in Canada. So, it made sense to lock arms and build-out Fight Laugh Feast Canada, and we can't wait to expand the Fight Laugh Feast mission beyond how God has blessed it here in the states. So, be on the look out, as we will be announcing shows and websites in the coming months.
Odds are increasing that Donald Trump could be the next Speaker of the House
https://disrn.com/news/odds-are-increasing-that-donald-trump-could-be-the-next-speaker-of-the-house/
According to Disrn.com:
"There is increasing speculation in Washington, D.C., that former President Donald Trump may be planning to play a major role in the upcoming 2022 congressional midterm elections, with a potential payoff that would greatly impact the future of President Biden's term in office.
If Trump is successful in helping the Republican Party gain back a majority in the House, something that is likely given the GOP's shockingly strong performance in the 2020 election cycle, a new Republican majority in the House could install Trump as Speaker of the House.
Though Trump would not be an elected representative himself, House rules allow for the majority to select someone from the outside to serve in the position."
As much as I would love for Trump to continue to be a stink eye to the establishment and to the Democrats, I highly doubt Trump is interested in this role.
Amazon Throttling Searches for Faucian Bargain?
https://www.nationalreview.com/corner/amazon-throttling-searches-for-faucian-bargain/?fbclid=IwAR2imQGz3wDgDbnJ9S-TDoLEdw0t2Fk3E3x02PGfcmKSP2zrMPoF5LQ4lpY
Have you read my friend, Steve Deace, his book called the Faucian Bargain? It was number one on Amazon, and then Amazon started to digitally burn the book.
According to Molly Powell of National Review, she recently went to Amazon and searched for the Facian Bargain in the search box, and to her surprise no results came up.
"What the search engine returned to me was many pages of other products, but Deace's book was nowhere among them. I looked through all seven pages of results. Amazon took the words in my search bar and converted them into something I was not looking for, "faustian bargain":
I tried the search again, typing in "faucian" and letting the search field autofill as "faucian bargain by Steve Deace." What showed up was exactly two items: two pieces of furniture.
Molly goes on to "You may notice that Amazon offers the search term that I typed as an option in very small blue print beneath what Amazon initially directed me to. I repeated this search in multiple browsers and in "ghost" mode. Same thing happened."
My wife bought Steve's book on Amazon last week, so obviously at one point this was not a problem. I thought I would see if Molly's experiment was true, and lo and behold I ran into the same problem. I could not search for Faucian Bargain in the Amazon search bar. Folks, we desperately need an alternative Christian economy. This is one of the things we are working hard on here at the Fight Laugh Feast Network. Through our network, events, and websites like www.DeftWire.com, we are creating a growing like-minded group of Christians who see the need for entrepreneurship and freedom. We need Christian bankers, business leaders, accounting firms, Christian Amazon alternatives, because if we don't build this infrastructure, we all will be canceled together in the future. God has us in this moment for a reason, so don't shy away from leaning into the fight.
Janet Yellen to call for global minimum tax rate
https://www.axios.com/janet-yellen-global-minimum-tax-rate-51c7395b-e46a-4a5c-b18b-bdcf5d8bd352.html
Janet Yellen will use her first major address as Treasury secretary to argue for a global minimum corporate tax rate, Axios has learned, as she makes the case for President Biden's plan to raise U.S. corporate taxes to fund his $2 trillion+ infrastructure plan.
Why it matters: Convincing other countries to impose a global minimum tax would reduce the likelihood of companies relocating offshore, as Biden seeks to increase the corporate rate from 21% to 28%.
"Competitiveness is about more than how U.S.-headquartered companies fare against other companies in global merger and acquisition bids," Yellen will say today in a speech to the Chicago Council on Global Affairs, according to an excerpt of her prepared remarks obtained by Axios.
"It is about making sure that governments have stable tax systems that raise sufficient revenue to invest in essential public goods and respond to crises, and that all citizens fairly share the burden of financing government."
"We are working with G20 nations to agree to a global minimum corporate tax rate that can stop the race to the bottom."
The big picture: President Trump lowered the U.S. rate from 35% to 21%, arguing that U.S. companies were at a global disadvantage and were being incentivized to relocate offshore.
The average corporate rate in the G7 is 24%, with some nine countries recently lowering their corporate rate, according to the Tax Foundation, a conservative tax group.
Biden's plan would also raise the international minimum rate for foreign profits from U.S. companies from 10.5% to 21%, which would still be lower than the 28% domestic corporate rate.
Go deeper: Yellen will also challenge the world's economic powers to focus on climate change and on ways to improve vaccine access for the world's poorest countries.
She will call for $650 billion in new "Special Drawing Rights" — essentially lines of credit at the IMF that can help developing countries access more U.S. dollars.
The Trump administration was skeptical of new SDR allocations and many congressional Republicans are still opposed.
The bottom line: By trying to convince other countries to impose a global minimum tax, Yellen is acknowledging the risks to the American economy if it acts alone in raising corporate rates.
"Together we can use a global minimum tax to make sure the global economy thrives based on a more level playing field in the taxation of multinational corporations, and spurs innovation, growth, and prosperity," she will say.
MLB All-Star Game to be played at Coors Field after league strips event from Braves
https://www.foxnews.com/sports/mlb-all-star-game-played-coors-field-reports?fbclid=IwAR36-QUPsYK3oDXU63Q2C1D0sOIYRt4Rvwg-7IYxc5LJciW7T7vJKIYUOyQ
As you have been following this here on our Daily News Briefs, well according to Fox News, the "The Colorado Rockies will host the 2021 MLB All-Star Game after the decision to move the event from Atlanta over Georgia's restrictive voting law, according to multiple reports."
"The 2020 All-Star Game hosted in Los Angeles was canceled. The game the year prior in Cleveland was estimated to have generated $65 million in regional economic activity. The 2013 event in New York had a massive local payday – estimated at $191.5 million."
So, MLB is moving the Allstar game from Atlanta, which has 60% minorities living in Atlanta, which would obviously mean a lot of minority owned businesses. Best estimates show that the MLB Allstar game will have about $100 million impact on the Atlanta area, including allll those minority owned businesses.
According to Fox:
"But the MLB signed a deal with Tencent Wednesday March 31st (two days later Commissioner Rob Manfred pulled the Allstar game from Atlanta), one of China's largest tech companies.
It's one of the Chinese firms that briefly dropped NBA games in 2019 after former Houston Rockets general manager Daryl Morey publicly voiced support for pro-democracy protesters facing a Beijing-backed crackdown in Hong Kong.
The new deal grants Tencent rights to stream MLB games in a number of Asian countries until 2023. Back in 2018, the MLB and Tencent reached another deal that granted the company streaming rights for 125 games within China."
Churchgoers Proud of Church's COVID-19 Response
"Throughout the COVID-19 pandemic, churches responded to serve churchgoers in a variety of ways, and churchgoers are overwhelmingly proud of how their church handled the crisis.
According to Nashville-based Lifeway Research, almost 9 in 10 Protestant churchgoers (86%) say they are proud of how their church has responded during the coronavirus pandemic, with 58% strongly agreeing. Few (9%) disagree.
Inversely, few (12%) say they are ashamed of how their church responded to the crisis.
In January 2021, half of Protestant churchgoers (51%) didn't attend any in-person church services. For some, that was because their congregation didn't gather in person, which has been the case throughout the pandemic.
In late March and April of 2020, fewer than 1 in 10 Protestant churches held in-person services in a given week, according to a previous Lifeway Research study among pastors. By June, however, the majority of churches were gathering in person again. In September, 87% of churches held in-person services, but that fell to 76% of churches in January 2021.
In the latest study, Lifeway Research found attending in person has not been an option recently for almost a quarter of Protestant churchgoers (22%). One in 5 (20%) say their church stopped in-person services months ago and have not resumed, while 2% say they stopped for the first time recently and have not resumed.
Few, only 1 in 20 churchgoers (5%), say their congregation continued to gather in person throughout the pandemic."
Share Plug
People ask us all the time, what is the best way to support CrossPolitic. Well besides a large endowment, the best way is to subscribe to our Fight Laugh Feast Club membership. $10, $25, $50, or $100 per month really goes a long way as our goal is to take down mainstream media and present the truth and reality of the gospel of our Lord Jesus Christ colliding with politics and culture. So, get behind Christian media and join our club.
Closing
This is Gabriel Rench with Crosspolitic News. Support Rowdy Christian media by joining our club at flfnetwork.com/membership, downloading our App, and head to our annual Fight Laugh Feast Conference next fall. With your partnership, together we will fight outdated and compromised media, engage news and politics with the gospel, and replace lies and darkness with truth and light. Go to flfnetwork.com/membership  to take all these actions. Have a great day. Lord bless