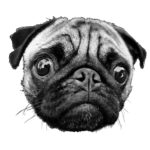 On today's show Chris introduces the discipline of Axiology to listeners. Axiology is a division of philosophy–like metaphysics, ethics, or epistemology, but with the focus on the concept of value. Chris uses his recent talk at the Thank God for Bitcoin Conference as the starting point for this discussion. Before the end the Pugs discuss the differences between intrinsic and extrinsic value, value and its relationship to the Real, and what the classic film, Casablanca can teach us about value in a world that is falling apart. Enjoy!
CR's article in American Reformer: https://americanreformer.org/2023/06/bitcoin/
Join us in Memphis on June 14th for 2 live show recordings, conversation, and refreshments. 3pm-7pm at the Courtyard Marriott in Downtown Memphis at 75 Jefferson Ave.
Join us in Huntsville Alabama June 16th for a live show recording at Fractal Brewing at 7pm.
Support the Pugcast on Patreon: https://www.patreon.com/thetheologypugcast?fbclid=IwAR17UHhfzjphO52C_kkZfursA_C784t0ldFix0wyB4fd-YOJpmOQ3dyqGf8
Check out The Good Life Podcast with Matt Carpenter: https://mattcarpenter.podbean.com/