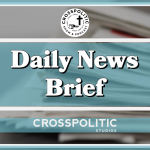 Daily News Brief for Wednesday February 10th, 2021
In this brief we will talk minimum wage, hero pay, not so smart politicians, politicians with a backbone, an odd supreme court case, and more. But first: 
If you have a news story you think we might need to cover, please send articles and links to news at crosspolitic dot com. Not only do we use these articles on our Daily News Briefs, but the also often make their way on to our news aggregator website: www.DeftWire.com. Lastly, if your company would like to advertise on our Daily News Brief, please reachout to Contact@FightLaughFeast.com for options. 
Biden minimum wage hike would boost incomes, but cut jobs in 2025: CBO
https://www.reuters.com/article/us-usa-economy-wages-cbo-idUSKBN2A822S?utm_campaign=trueAnthem%3A%20Trending%20Content&utm_medium=trueAnthem&utm_source=facebook
U.S. President Joe Biden's plan to raise the minimum wage to $15 per hour by 2025 would cut employment by 1.4 million jobs that year and increase the budget deficit by $54 billion over the next 10 years, the Congressional Budget Office said on Monday.
The CBO said the proposal would increase, on net, the cumulative pay of affected people by $333 billion over the 2021-2031 period but noted that this represented an increased labor cost for firms employing them.
"That net increase would result from higher pay ($509 billion) for people who were employed at higher hourly wages under the bill, offset by lower pay ($175 billion) because of reduced employment under the bill," CBO said in its assessment.
The agency said 17 million workers whose wages would otherwise be below $15 would see their wages rise to that level in 2025, but 1.4 million fewer workers overall would be employed, as some companies will choose to invest more in technology or automation.
"Young, less-educated people would account for a disproportionate share of those reductions in employment," the CBO said.
Watch this freshman legislator go beast mode and school Congress on economics in his first speech in the House
https://notthebee.com/article/watch-this-freshman-representative-just-schooled-congress-on-economics-in-his-first-speech-in-the-house
Check out first-term Rep. Byron Donalds (FL) school Congress on some basic economics in his first speech on the House floor:
https://notthebee.com/article/watch-this-freshman-representative-just-schooled-congress-on-economics-in-his-first-speech-in-the-house
Play Video on minimum wage
"Hero pay" dispute in California leaves some grocery workers feeling "scared"
https://www.cbsnews.com/news/hero-pay-california-grocery-workers/?ftag=CNM-00-10aab6a&linkId=110968060&fbclid=IwAR1HgyOxoC4W8r6D5yqTYWvjrr3Jrxe_cpQkguXKfiHnhzN0RwBsgPTzYN4
"In Long Beach, California, where the city council recently passed a "hero pay" ordinance for its grocery workers, there has been pushback to the new rule by grocery store chains.
Employees at a Food 4 Less store say it's one of the top earners in the region, and yet it's closing because – according to parent company Kroger – it can't afford to stay open.
When Long Beach passed a mandate for temporary hazard pay late last month, requiring chain grocery stores to pay $4 an hour extra for 120 days, parent company Kroger announced the store was one of two closing. Their reason? The store couldn't afford to stay open.
And according to financial records, Kroger — the largest grocery chain in the country — earned twice as much in 2020 as the previous year.
The hero pay ordinance has also prompted a lawsuit from the California Grocers Association.
"You know, the one thing that we do agree with is that our employees are our heroes," said association president Ron Fong. "However, it is really unprecedented to have a city council demand what businesses should do with their wages.""
Share Plug
Is CrossPolitic a blessing to you? We hope so, and we would appreciate your support. There are three…four ways you can help us, and they are all fun ways:
First, one of the most significant ways you can help us (and we need a LOT of help!) is by sharing this news brief or your favorite show with someone you think would appreciate it. Tell someone about the Fight Laugh Feast App. 
Secondly, become a Fight Laugh Feast Club Member. We are building a platform that Lord-willing cannot be cancelled by big media. And your support is helping to make that possible. 
Thirdly, subscribe to our Fight Laugh Feast Magazine. Our goal here, is to give you a quarterly mini-book-like experience with various authors, one them, a Psalm of the quarter, a recipe of the quarter, and something to place on your coffee table that would drive Tim Keller crazy. Thanks to all of you who have already taken these steps, and we are excited for what God has in store for 2021.
Horowitz: Missouri county authorizes arrest of feds who violate Second Amendment
https://www.theblaze.com/op-ed/horowitz-missouri-county-authorizes-arrest-of-feds-who-violate-second-amendment
From our Friend Daniel Horowitz over at the Blaze: "What is our recourse when our own government criminalizes our most basic rights while it allows Black Lives Matter and Antifa to rampage through our streets with impunity? Is there no Plan B when the federal or state governments treat all conservatives like terrorists, business owners like pariahs, and those who yearn to breathe unmasked air like murderers? Well, one Missouri county is demonstrating the importance of sheriffs and county officials returning to self-government and interposing between the governmental usurpers and the most sacred rights of the people.
On Feb. 3, the Newton County, Missouri, Commission passed a bill that will not only block federal enforcement of unconstitutional gun policies, but criminalize their implantation thereof within the jurisdiction of the county. The "Second Amendment Preservation Act of Newton County Missouri" declares that "all federal acts, laws, orders, rules, and regulations passed by the federal government and specifically any Presidential Administration whether past, present, or future, which infringe on the people's right to keep and bear arms as guaranteed by the Second Amendment of the United States Constitution and Article I, Section 23 of the Missouri Constitution shall be invalid in the county."
Supreme Court Will Decide Whether Police Can Enter A Home To Seize Guns Without A Warrant
https://www.forbes.com/sites/evangerstmann/2021/02/05/supreme-court-will-decide-whether-police-can-enter-a-home-to-seize-guns-without-a-warrant/?sh=7c7c13f35bb4
"The Fourth Amendment right against warrantless searches of a person's home is a pillar of Americans' constitutional liberties. Before a police officer or any other government official can enter your home, they must show a judge that they have probable cause that they will discover specific evidence of a crime. 
There are some limited exceptions to this right. There is an "exigent circumstances" exception. If a police officer looks through a home's window and sees a person about to stab another person, the officer can burst through the door to prevent the attack. There is also the "emergency aid" exception. If the officer looked through the same window and saw the resident collapsing from an apparent heart attack, the officer could run into the house to administer aid. Neither of these cases violates the Fourth Amendment and few would argue that it should be otherwise. 
However, there is a broader cousin to these exceptions called the "community caretaking" exception. It derives from a case in which the police took a gun out of the trunk of an impounded vehicle without first obtaining a warrant. The Supreme Court held that there is a community caretaking exception to the Fourth Amendment's warrant requirement because police perform "community caretaking functions, totally divorced from the detection, investigation, or acquisition of evidence relating to the violation of a criminal statute." The Court held that police activity in furtherance of these functions does not violate the Fourth Amendment as long as it is executed in a "reasonable" manner. 
Note that, unlike the first two exceptions, this one is not limited to immediate emergencies. In the Supreme Court case just described there was only a general concern that vandals might eventually break into the impounded car and steal any weapons that were in the trunk. So the community care exception is far broader than the other two."
Two National Events: Fight Laugh Feast Rally in Rapid City, South Dakota, April 29, 30, May 1 & the Fight Laugh Feast Conference in Nashville, TN, October 14-16. Why a rally in South Dakota in April? Because we want to stand with Kristi Noem – the only Governor in the Union to not overstep her authority. And we also want to encourage you wherever you are. Many churches are not meeting, many Christians feel all alone. But you're not alone. So the theme of the Rally in South Dakota is Love God, Sing Psalms, Defy Tyrants. Gather with likeminded Christians who love freedom, confess Jesus Christ is Lord, and be equipped to stand firm in these insane days. Go to FLFNetwork.com/Rally. 
Iowa Rolls Back Coronavirus Restrictions
https://www.npr.org/2021/02/05/964689123/iowa-rolls-back-coronavirus-restrictions?utm_medium=social&utm_campaign=npr&utm_source=facebook.com&utm_term=nprnews
Iowa Gov. Kim Reynolds signed a new public health disaster proclamation Friday that will ease previous public health regulations geared to controlling the coronavirus.
Starting Sunday, Iowa residents will no longer be required to wear masks. Reynolds' previous order, which was put into place last November, required individuals to wear masks when indoors in a public space and within six feet of individuals who are not part of their household.
Instead, her new proclamation "strongly encouraged" residents with medical conditions and those over the age of 65 to limit activities outside of their home. Those who are not at substantial risk should limit their interactions with those more susceptible to the virus, Friday's proclamation said.
Additionally, Iowans will no longer be held to 15 people for indoor gatherings, or 30 if outdoors. Reynolds strongly encouraged event organizers to take reasonable measures to protect the health of their guests as well as the public, the order said.
Closing
This is Gabriel Rench with Crosspolitic News. Support Rowdy Christian media by joining our club at FightLaughFeast.com, downloading our App, and head to our annual Fight Laugh Feast Conference next fall. With your partnership, together we will fight outdated and compromised media, engage news and politics with the gospel, and replace lies and darkness with truth and light. Go to FightLaughFeast.com to take all these actions. Have a great day. Lord bless