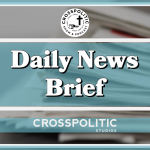 This is CrossPolitic Daily News Brief for Wednesday, May 19th, 2021. 
Huge thanks to everyone who attended and watched the Fight Laugh Feast Rally in Rapid City, South Dakota: all the talks were archived for Fight Laugh Feast Club Members in the club portal. Become a club member today so you don't miss any of them. And if you see some of the clips from the talks floating around on social media, don't forget to share them. That's a great way to share the love and encourage other folks to join.
We're already gearing up for the next conference back in Nashville: Sep. 9-11: the Politics of Sex. I hope many of you are planning to come. Registration will be opening soon.
Also, have you been following the Maricopa County ballot inspection recount? Well our friends down there need about 800 volunteers starting ASAP. This is very important for election integrity and for the future of our elections. I can't emphasis the importance of joining this effort enough. Please go to https://form.jotform.com/211226791828157 and fill out the form. Some volunteer positions require you to live in Maricopa County, other position do not. There are also a couple temporary paying positions that need to be filled. Regardless, fill out the form and put CrossPolitic in the referral text box.
And of course these efforts need your financial support, so go to https://fundtheaudit.com/ and give $25, $100, $500, or whatever you can. I know a lot of the leaders involved in this effort, and they are good Christian men. You money will be used by honest men for an honest audit.
Fauci admits to masking after vaccination for the sake of optics, not science
https://thepostmillennial.com/fauci-admits-to-wearing-a-mask-indoors-because-of-appearances-not-science
Play clip.
So, Fauci is happy to play theater masking, virtue signalling, science, but remember he did deny theater mask when Rand Paul questioned him weeks ago.

Play clip: https://www.youtube.com/watch?v=OEpuTz_rApA
Pressure Rising on Biden, Fed to Offset Inflation
https://www.newsmax.com/politics/biden-fed-inflation-economy/2021/05/17/id/1021677/
According to News Max:
"President Joe Biden and the Federal Reserve face growing calls to prevent rising inflation from hurting the economy as the U.S. attempts to recover from the recession caused by the COVID-19 pandemic, The Hill reports.
While some inflation had been expected as the economy reopens and customers begin spending after a widespread decline during the pandemic, the sudden increase in prices has some concerned. The consumer price index rose by 0.8% in April for a 4.2% increase in total over the past year, according to the Labor Department, the fastest annual rate since 2008."
"The central bank said it won't raise interest rates until inflation is set to make up for shortfalls and the U.S. has reached maximum employment, which likely won't happen for another year."
"But many economists say that prices will naturally settle once the economy goes back to normal.
"We've only seen really two months of strong price increases," said Laura Rosner-Warburton, senior economist at the research service MacroPolicy Perspectives.
"It would be premature and kind of an overreaction to look at the [April CPI report] in particular and to be overly concerned," she said, adding that the price increase was due to three short-term causes: statistical quirks that come with a sudden increase after a year of significant decline, supply restrictions caused by the pandemic, and the pent-up demand that people are now able to release.
"Last year, we had outright declines in prices, and this year, we're not seeing those declines repeat," she said. "So on a year-over-year basis, comparing it looks like inflation is artificially higher because of the decline last year."
Have you signed up for our Magazine? Next issue ships in early June. Our magazine is a quarterly, mini-book-like experience that includes the best of authors and topics for a theological roundhouse kick to the face of our cultural gods. Read your magazine like you drink your scotch, and let the kick warm your belly. We don't water down our theology, why would we water down our scotch? Annual subscriptions are $60 – that's for four issues. So sign up and enjoy our Fight Laugh Feast theme park.
PENTAGON PLANS TO MONITOR SOCIAL MEDIA OF MILITARY PERSONNEL FOR EXTREMIST CONTENT
https://theintercept.com/2021/05/17/military-pentagon-extremism-social-media/
"AS PART OF the Biden administration's crackdown on domestic extremism, the Pentagon plans to launch a pilot program for screening social media content for extremist material, according to internal Defense Department documents reviewed by The Intercept, as well as a source with direct knowledge of the program.
An extremism steering committee led by Bishop Garrison, a senior adviser to the secretary of defense, is currently designing the social media screening pilot program, which will "continuously" monitor military personnel for "concerning behaviors," according to a Pentagon briefing in late March. Although in the past the military has balked at surveilling service members for extremist political views due to First Amendment protections, the pilot program will rely on a private surveillance firm in order to circumvent First Amendment restrictions on government monitoring, according to a senior Pentagon official. Though the firm has not yet been selected, the current front runner is Babel Street, a company that sells powerful surveillance tools including social media monitoring software.
Babel Street has drawn criticism for its practice of buying bulk cellular location data and selling it to federal national security agencies like the Secret Service, who rely on the private company to bypass warrant requirements normally imposed on government bodies seeking to collect data. In November, Vice reported that the U.S. military's Special Operations Command used one of Babel Street's products, Locate X, to track the location of individuals for special forces operations. One method Babel controversially used was to purchase location data associated with the users of a popular Muslim prayer app."
In an email received after this article was originally published, a spokesperson for the House Armed Services Committee provided the following statement:
"The Committee understands that the Department of Defense is exploring a means of implementing social media screening in conjunction with background investigations. We anticipate that any social media screening would be intended only as an additional means of vetting cleared individuals or those seeking to obtain a security clearance, not as a tool for ongoing surveillance of all men and women in uniform. That said, Secretary Austin has been clear about his intentions to understand to what extent extremism exists in the force and its effect on good order and discipline. We look forward to hearing the results of the stand down and the Department's plan to move forward."
'Our democracy is imperiled': Maricopa County officials decry 2020 recount as a sham and call on Arizona Republicans to end the process
https://www.msn.com/en-us/news/politics/e2-80-98our-democracy-is-imperiled-e2-80-99-maricopa-county-officials-decry-2020-recount-as-a-sham-and-call-on-arizona-republicans-to-end-the-process/ar-BB1gQhCg?ocid=uxbndlbing
"The Republican-dominated Maricopa County Board of Supervisors on Monday denounced an ongoing audit of the 2020 election vote as a "sham" and a "con," calling on the GOP-led state Senate to end the controversial recount that has been championed by former president Donald Trump.
In a fiery public meeting and subsequent letter to state Senate President Karen Fann, the board members said the audit has been inept, promoted falsehoods and defamed the public servants who ran the fall election.
Calling the process a "spectacle that is harming all of us," the five members of the board — including four Republicans — asked the state Senate to recognize that it is essential to call off the audit, which officials have said is only about one-quarter complete.
"It is time to make a choice to defend the Constitution and the Republic," they wrote. "We stand united together to defend the Constitution and the Republic in our opposition to the Big Lie. We ask everyone to join us in standing for the truth," they added, using a term that refers to the false claim that the election was stolen.
In a calculated show of unity, they were joined by Maricopa's other elected officials: the sheriff, a Democrat; and the Republican county recorder, who leads the elections office.
"Our state has become a laughingstock," the county officials wrote. "Worse, this 'audit' is encouraging our citizens to distrust elections, which weakens our democratic republic."
The pushback by Maricopa County officials amounts to their most vehement protest yet of the recount, which began in late April and is being conducted in Phoenix by a private Florida-based company, Cyber Ninjas, whose chief executive has previously echoed Trump's false allegations that fraud tainted the 2020 election.
Jointly, the county officials agreed that they would refuse to attend a meeting that had been called Tuesday by Fann to discuss what she had termed "serious issues" with the vote that Cyber Ninjas claims to have identified.
"I will not be responding to any more requests from this sham process. Finish your audit and be ready to defend what you're finding in a court of law," Maricopa County Board of Supervisors Chairman Jack Sellers (R) said at the public meeting."
So, if people are distrusting of the election process, wouldn't an audit restore trust and not take it away? Their reasoning does not make sense.
Here is a clip from Doug Logan the CEO of Cyber Ninjas, the lead contractor for the Maricopa County recount
Play clip: https://www.facebook.com/AddKyle/posts/10161190520979966
That is all we want is sunshine. Let the truth be know. Either there is massive fraud or the election results were legit. With all the noise floating around in the air, why not have an objective recount to prove one way or the other.
Closing
This is Gabriel Rench with Crosspolitic News. Support Rowdy Christian media by joining our club at fightlaughfeast.com, downloading our App, and head to our annual Fight Laugh Feast Conference next fall. With your partnership, together we will fight outdated and compromised media, engage news and politics with the gospel, and replace lies and darkness with truth and light. Go to fightlaughfeast.com to take all these actions. Have a great day. Lord bless