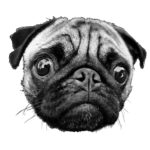 This week's Pugcast has another special guest. While Glenn is still away, Tom and Chris are joined by Labin Duke, the Executive Director of the Blake Center for Faith and Freedom of Hillsdale College in Somers, Connecticut. Labin introduces our audience to the fascinating history, mission, and vision of the Center. Extending the reach of the Hillsdale vision of faith and freedom into the spiritual and political barrenness of New England is bold yet opportune. The gentleman unpack the challenges as well as opportunities of such a venture as Mr. Duke further gives details about the upcoming programs offered by the Center. You'll not want to miss this rich interview.
Learn more about the Blake Center at blakecenter.hillsdale.edu
Support the Pugcast on Patreon: https://www.patreon.com/thetheologypugcast?fbclid=IwAR17UHhfzjphO52C_kkZfursA_C784t0ldFix0wyB4fd-YOJpmOQ3dyqGf8
Like The Theology Pugcast? Check out another show sponsored by Trinity Reformed Church in Huntsville AL: 'Got a Minute?' Theology, Philosophy, Economics, Politics (and more) for normal people. Featuring Rich Lusk, Larson Hicks, and the occasional special guest!