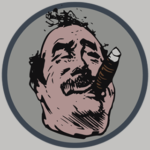 On this episode of The Patriarchy Podcast, we listen to some women talk about how they don't feel like they should be worship leaders but do it anyways, interview Jody Killingsworth from My Soul Among Lions, and discuss what it means to #worship our King like a man.
Subscribe to the Fight Laugh Feast Network (Crosspolitic Studios) podcast feed on iTunes, or your favorite podcast app, and look for episodes starting with "The Patriarchy Podcast" to hear us each Tuesday.
#SupportThePatriarchy and get access to bonus content, behind the scenes material, a t-shirt, coffee, and lots of other great stuff by signing up to be a Fight Laugh Feast Club Member at FightLaughFeast.com using the code PATRIARCHY.
#BuildFightProtectLead
#ThePatriarchy
#FLFNetwork
ThePatriarchyPodcast on Facebook
PatriarchyPod on Twitter
ThePatriarchyPodcast on Instagram
ThePatriarchyPodcast on YouTube
ThePatriarchyPodcast on Minds
ThePatriarchyPodcast.com
Credits:
"Twisted" "District Four" Kevin MacLeod (incompetech.com)
Licensed under Creative Commons: By Attribution 3.0 License
http://creativecommons.org/licenses/by/3.0/
Essential Worship "Essential Worship: Women Leading Worship – ELEVATION WORSHIP" YouTube. 15 Oct 2013. Tues. 26 Nov. 2019. https://www.youtube.com/watch?v=nLRYq7UempA
wade falcon "Bad Saxophone Solo – Christian Song 'Give Thank'" YouTube. 16 Oct 2016. Tues. 26 Nov. 2019. https://www.youtube.com/watch?v=He-sYfNGsv8
My Soul Among Lions "My Soul Among Lions // Why Do The Nations Rage? (Psalm 2)" YouTube. 03 Jun 2015. Tues. 26 Nov. 2019. https://www.youtube.com/watch?v=eD4pOW_rvOQ