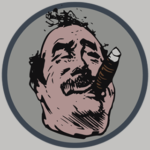 On this episode of The Patriarchy Podcast, we lament our sad lack of sandwiches, interview guest Michael Coughlin from Things Above Us, and talk about the benefits and also idolatry of #sports in our lives as men.
Subscribe to the Fight Laugh Feast Network (Crosspolitic Studios) podcast feed on iTunes, or your favorite podcast app, and look for episodes starting with "The Patriarchy Podcast" to hear us each Tuesday.
#SupportThePatriarchy and get access to bonus content, behind the scenes material, a t-shirt, coffee, and lots of other great stuff by signing up to be a Fight Laugh Feast Club Member at FightLaughFeast.com using the code PATRIARCHY.
Get some #PatriarchyMerch by heading over to ConfessionalWear.com and find us in their "Podcast Collaborations."
#BuildFightProtectLead
#ThePatriarchy
#FLFNetwork
ThePatriarchyPodcast on Facebook
PatriarchyPod on Twitter
ThePatriarchyPodcast on Instagram
ThePatriarchyPodcast on YouTube
ThePatriarchyPodcast on Minds
ThePatriarchyPodcast.com
Credits:
"Twisted" "District Four" Kevin MacLeod (incompetech.com)
Licensed under Creative Commons: By Attribution 3.0 License
http://creativecommons.org/licenses/by/3.0/
Personehou "SportsCenter Top 10 Sports Rants Of All Time HD 720p" YouTube. 09 Jun 2015. Tues. 10 Dec. 2019. https://www.youtube.com/watch?v=nLRYq7UempA
gordievsky "Iverson Practice!" YouTube. 15 Apr 2006. Tues. 10 Dec. 2019. https://www.youtube.com/watch?v=He-sYfNGsv8a