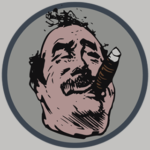 On this episode of The Patriarchy Podcast, we talk about false teachings rising in the Church, interview fellow network show host AD Robles, and discuss fighting the poison of social justice.
Subscribe to the Fight Laugh Feast Network (CrossPolitic Studios) podcast feed on iTunes, or your favorite podcast app, and look for episodes starting with "The Patriarchy Podcast" to hear us each Tuesday.
#SupportThePatriarchy and get access to bonus content, behind the scenes material, a t-shirt, coffee, and lots of other great stuff by signing up to be a Fight Laugh Feast Club Member at FightLaughFeast.com using the code PATRIARCHY.
#BuildFightProtectLead
#ThePatriarchy
#FLFNetwork
ThePatriarchyPodcast on Facebook
PatriarchyPod on Twitter
ThePatriarchyPodcast on Instagram
ThePatriarchyPodcast on Minds
ThePatriarchyPodcast.com
Credits:
"Twisted" "District Four" Kevin MacLeod (incompetech.com)
Licensed under Creative Commons: By Attribution 3.0 License
http://creativecommons.org/licenses/by/3.0/
Lauren Brooks "Female Worship Leader Responds to 'John Macarthur Beth Moore Go Home' Video" YouTube. 19 Oct 2019. Tues. 22 Oct. 2019. https://www.youtube.com/watch?v=cOZ-AdV6G54

TheDailyCafard "Two Kinds Of People" YouTube. 09 Jan 2012. Tues. 22 Oct. 2019. https://www.youtube.com/watch?v=cOZ-AdV6G54

MovieClips "The Good, the Bad and the Ugly (6/12) Movie CLIP – Two Kinds of Spurs (1966) HD" YouTube. 11 Mar 2015. Tues. 22 Oct. 2019. https://www.youtube.com/watch?v=cOZ-AdV6G54

Joseph Spurgeon "THE GLORY OF THE MAN (Lyric Video) My Soul Among Lions" YouTube. 06 Nov 2018. Tues. 22 Oct. 2019. https://www.youtube.com/watch?v=cOZ-AdV6G54