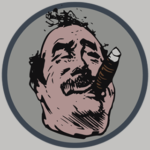 On this #Thanksgiving episode of The Patriarchy Podcast, we subject ourselves to the emotional tantrums of Jory Micah, interview Pastor Toby Sumpter from Crosspolitic, and discuss the thankful sacrifices to God that are the lives of faithful men.
Subscribe to the Fight Laugh Feast Network (Crosspolitic Studios) podcast feed on iTunes, or your favorite podcast app, and look for episodes starting with "The Patriarchy Podcast" to hear us each Tuesday.
#SupportThePatriarchy and get access to bonus content, behind the scenes material, a t-shirt, coffee, and lots of other great stuff by signing up to be a Fight Laugh Feast Club Member at FightLaughFeast.com using the code PATRIARCHY.
#BuildFightProtectLead
#ThePatriarchy
#FLFNetwork
ThePatriarchyPodcast on Facebook
PatriarchyPod on Twitter
ThePatriarchyPodcast on Instagram
ThePatriarchyPodcast on YouTube
ThePatriarchyPodcast on Minds
ThePatriarchyPodcast.com
Credits:
"Twisted" "District Four" Kevin MacLeod (incompetech.com)
Licensed under Creative Commons: By Attribution 3.0 License
http://creativecommons.org/licenses/by/3.0/
Jory Micah "John Macarthur…this is the product of you telling women preachers to 'go home.' I hope your theological 'correctness' was worth breaking my heart." Facebook. 15 Nov 2019. Tues. 19 Nov. 2019. https://www.facebook.com/BreakingTheGlassSteeple/videos/2504000229925042/
Aidan H "Leave Britney Alone" YouTube. 24 Apr 2016. Tues. 19 Nov. 2019. https://www.youtube.com/watch?v=0wG_h3U568w
hartmanncara "eHarmony Video Bio" YouTube. 03 Jun 2011. Tues. 19 Nov. 2019. https://www.youtube.com/watch?v=mTTwcCVajAc
Sweendrix "Adam Sandler – Thanksgiving Song" YouTube. 21 Nov 2012. Tues. 19 Nov. 2019. https://www.youtube.com/watch?v=lqGkbVXSaKU