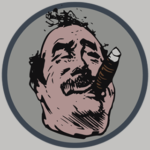 On this #MenOfViolence episode, Tony & Joseph talk about the choices men have when faced with a culture of feminist women. This is the #MGTOW episode, gentlemen.
Download the "Fight Laugh Feast Network" app from the Apple, Google Play, ROKU, or Amazon Fire app store to hear us each Tuesday.
Support The Patriarchy and get access to bonus content, including the members only show "After The Sandwich," behind the scenes material, a t-shirt, coffee, and lots of other great stuff by signing up to be a Fight Laugh Feast Club Member at FightLaughFeast.com using the code PATRIARCHY.
Love coffee? Get some over at MissionFirstCoffee.com/Patriarchy and support some good folks and missions.
#BuildFightProtectLead
#ThePatriarchy
#FLFNetwork
ThePatriarchyPodcast on Gab
ThePatriarchyPodcast on Facebook
PatriarchyPod on Twitter
ThePatriarchyPodcast on Instagram
ThePatriarchyPodcast on YouTube
ThePatriarchyPodcast.com
Credits:
"Twisted" "District Four" Kevin MacLeod (incompetech.com) Licensed under Creative Commons: By Attribution 3.0 License http://creativecommons.org/licenses/by/3.0/