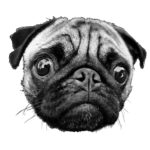 In today's show Tom, Glenn, and Chris are joined by Aaron Renn, former (but perhaps not), publisher of the newsletter for men with over 5,000 subscribers, The Masculinist.
The guys met in New Haven, Connecticut, right down the street from Yale, at Modern Apizza–one of the top rated pizzarias in America. The conversation was free-flowing and somewhat rambling, but there are a number of gems for you to take away.
Durning the conversation a waitress spills some beer on Chris's laptop, but never fear!–the top was closed and the machine escaped unharmed. (But you'll hear the cry of dismay from the waitress.)
Sound is much better than in recent episodes. The Pugsters hope you enjoy the show!