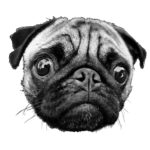 In today's show the Pugsters are in lock-down, like the rest of the world. But because of the wonders of modern technology that's  not held them back from recording a show.! They've dialed in remotely from various undisclosed locations in North America to discuss the history of Christian witness during times of plague.
Glenn leads the discussion, making sure that Tom and Chris keep the historical facts in mind during the discussion. They discuss the Christian origin of hospitals, the advances in medicine that we now enjoy, the martyrdom of early Christians who ministered to the dying, and they even reflect on the good uses of technology that we ought to be grateful for.
As an added bonus we actually have video available of the three mugs of the pugs. That video will be posted to the Theology Pugcast Facebook page.