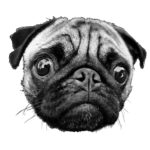 Today we welcome to the show a friend of Glenn Sunshine: Francis Jabba, Disciple Making Coordinator for New Harvest Global Ministries in 16 African countries.
Reports of the spectacular growth of Christianity in Africa are well known. What is less known is how it is happening. Glenn has visited Africa and has reported on the growth of the church in the book he co-wrote with Jerry Trousdale, The Kingdom Unleashed. In today's show the Pugcasters interview one of the leaders of this phenomenal movement. There were many remarkable things that they learned in the course of the interview–an important one being how Islam is growing in Africa through a combination of biological growth, conversion through marriage, business dealings with strings attached, and the building of mosques.
The show is a bit of a departure from the standard Pugcast fare–but that shouldn't surprise our listeners, the range of conversation on the show is pretty broad.
Here is a link to Glenn's book on Amazon.
If you would like to donate to this important work in West Africa here is the contact information: New Harvest Global Ministries, P.O. Box 681691, Franklin TN. 37068. New Harvest's website is www.newharvestglobal.org 
If you want to give a donation for Francis's building, put "Francis Jabba building fund" in the Memo.