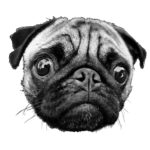 The Pugsters are pleased to be joined by Ken Boa for today's show. 
Ken is the author of many books, and his most recent book is published by IVP. He's also a long-time friend of Glenn. Ken was in town for Glenn's ordination service at First Church of Christ Wethersfield, (a historic congregational church that was once attended by Jonathan Edwards). Ken also earned one of his doctorates at Oxford University–which gives him something to talk about with Tom. (Not that they needed any help talking.)
The conversation with Ken took place with a "live audience" and while it centered on the theme of Ken's new book, it was a free ranging one.