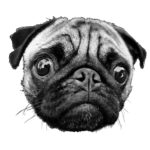 The Pug-crew continue their conversation with Ken Boa. In today's show the discussion surrounds the theme of Ken's book,
Life in the Presence of God.
Talking to Ken is like trying to take a sip from a fire hydrant–you may need to listen to the interview a couple of times to get the gist of what Ken is getting at–but it will be worth the effort.  We hope you enjoy the conversation!