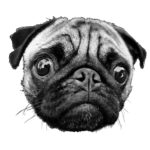 In today's episode Chris begins with a simple truth: since modern welfare states are not the Kingdom of God they will end someday. This leads to a discussion of disincentives for having children in welfare states and why that spells their demise in the long run. Naturally debt is used to keep the state going in the near term, but this only make the eventual collapse that much more devastating.
Since we can see evidence of the final failure of the welfare state all around it is a good idea to "short" the welfare state.
Whenever you short an asset you're betting that its value will go down. The bet allocates resources into assets that will go up in value in the event of the loss of value in the shorted asset. So, what should we invest ourselves in instead of the welfare state? Chris turns to the book of Ruth in the Old Testament for clues.Sound quality continues to improve–the Pug has discovered the source of the mysterious background noise that plagued earlier podcasts and it has been addressed. We hope you can enjoy the show better now!