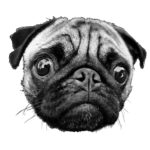 In today's show Tom talks about how God's saving presence enters into the full range of our creaturely reality (finite, limited, fallen, with even death) and creates life and hope, not by denying or escaping reality, but by transcending it, in a way only the Christian God is able to.
As usual Glenn and Chris chime in from time to time.
If you'd like to see the Pugsters, a Zoom edition of the show has been posted to the Facebook Pugcast fanpage!