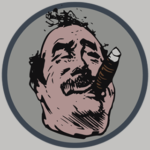 On this week's The Patriarchy Podcast, we've got some good news and we've got some bad(-ish) news on this short minisode.
Subscribe to the Fight Laugh Feast Network (CrossPolitic Studios) podcast feed and look for episodes starting with "TPP" to hear us each Tuesday.
#SupportThePatriarchy and get access to behind the scenes material and lots of bonus content by signing up to be a Fight Laugh Feast Club Member at FightLaughFeast.com using the code PATRIARCHY.
#BuildFightProtectLead
#ThePatriarchy
#FLF
Facebook.com/ThePatriarchyPodcast
Twitter.com/PatriarchyPod
Instagram.com/ThePatriarchyPodcast
Minds.com/ThePatriarchyPodcast
ThePatriarchyPodcast.com
Credits:
"Twisted" "District Four" Kevin MacLeod (incompetech.com)
Licensed under Creative Commons: By Attribution 3.0 License
http://creativecommons.org/licenses/by/3.0/
Music: https://www.purple-planet.com