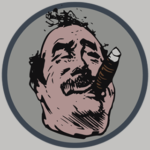 On this episode of The Patriarchy Podcast, we learn about a hatchet wielding feminist, interview Jon Speed, and talk about speaking before civil magistrates.
Subscribe to the Fight Laugh Feast Network (CrossPolitic Studios) podcast feed on iTunes, or your favorite podcast app, and look for episodes starting with "TPP" to hear us each Tuesday.
#SupportThePatriarchy and get access to bonus content, behind the scenes material, a t-shirt, coffee, and lots of other great stuff by signing up to be a Fight Laugh Feast Club Member at FightLaughFeast.com using the code PATRIARCHY. It not only supports the network and our show, but it comes with the added benefit of you being able to say, "I SUPPORT THE PATRIARCHY!" and trigger some feminists.
#BuildFightProtectLead
#ThePatriarchy
#FLF
ThePatriarchyPodcast on Facebook
PatriarchyPod on Twitter
ThePatriarchyPodcast on Instagram
ThePatriarchyPodcast on Minds
ThePatriarchyPodcast.com
Credits:
"Twisted" "District Four" Kevin MacLeod (incompetech.com)
Licensed under Creative Commons: By Attribution 3.0 License
http://creativecommons.org/licenses/by/3.0/
Music: https://www.purple-planet.com
Weird History "How Carry A. Nation Tried To Rid The World Of Alcohol" YouTube. 14 Jun. 2018. Sat. 24 Aug. 2019. https://www.youtube.com/watch?v=PVYDFfPmxrM
Robert Peterson "The Patriot Quote Sometimes as shepherd…must fight wolves" YouTube. 19 Jun. 2014. 24 Aug. 2019. https://www.youtube.com/watch?v=B8N_xfyVXec
placeboing "Could Be Trump!" YouTube. 18 Sept. 2016. 24 Aug. 2019. https://www.youtube.com/watch?v=l2n_-jwPUHQ
AmericansNotWanted.com "Best John Wayne Quote – ever!" 4 Sept. 2012. Sat. 24 Aug. 2019. https://www.youtube.com/watch?v=TY2ajoB_soc