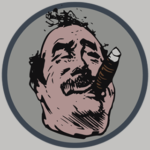 On this episode of The Patriarchy Podcast, we talk about beloved feminist and closet egalitarian Beth Moore, interview guests Shane Anderson and Aaron Sabie, and discuss the incredible importance of family worship.
Subscribe to the Fight Laugh Feast Network (CrossPolitic Studios) podcast feed on iTunes, or your favorite podcast app, and look for episodes starting with "The Patriarchy Podcast" to hear us each Tuesday.
#SupportThePatriarchy and get access to bonus content, behind the scenes material, a t-shirt, coffee, and lots of other great stuff by signing up to be a Fight Laugh Feast Club Member at FightLaughFeast.com using the code PATRIARCHY. It not only supports the network and our show, but it comes with the added benefit of you being able to say, "I SUPPORT THE PATRIARCHY!" and trigger some feminists.
#BuildFightProtectLead
#ThePatriarchy
#FLFNetwork
ThePatriarchyPodcast on Facebook
PatriarchyPod on Twitter
ThePatriarchyPodcast on Instagram
ThePatriarchyPodcast on Minds
ThePatriarchyPodcast.com
Resources for Family Worship:
"Truth & Grace Memory Book #1" by Tom Ascol
"Truth & Grace Memory Book #2" by Tom Ascol
"Truth & Grace Memory Book #3" by Tom Ascol
YouTube Lyric Playlist for Family Worship
"Family Worship: The Voice of Rejoicing in the Christian Home" by Shane Anderson
Credits:
"Twisted" "District Four" Kevin MacLeod (incompetech.com)
Licensed under Creative Commons: By Attribution 3.0 License
http://creativecommons.org/licenses/by/3.0/
The Corner Room "Psalm 127 (Lyric Video)" YouTube. 09 April 2018. Tues. 08 Oct. 2019. https://www.youtube.com/watch?v=cOZ-AdV6G54