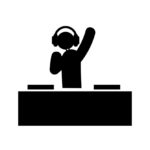 My first live video recorded show. Thanks to Crosspolitic for letting me invade the studio! This one is on The Lie of the Stripclub. The excellent MC for The Roots, Blackthought's rhymes in "When the People Cheer" pull back the curtain and reveal what is really being bought and sold at a strip joint and we look at what the reality we should be pursuing in its place.
If you are looking for more from the Westminster Confession of Funk, check out my blog hosted by the Fight, Laugh, Feast Network.
Check out my books at amazon.com.
Visit Jovial Press for more.